No Parliament summons for News of the World pair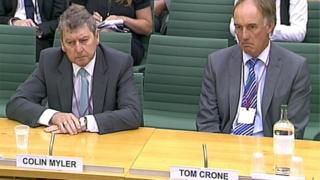 The former editor and legal manager of the News of the World will not be summoned to the Commons to be publicly admonished over evidence they gave about phone hacking.
Colin Myler and Tom Crone were found in contempt of Parliament after appearing before the Culture Committee.
MPs approved a motion formally criticising the two executives.
But an amendment calling on them to be ordered before the speaker to be admonished was not selected for debate.
Leader of the Commons David Lidington said findings in a report by the privileges committee that Parliament had been misled were "of serious concern".
But he highlighted fears of a former clerk of the Commons that summoning members of the public before the speaker risked creating a "pantomime".
Some lawyers had also raised concerns over whether there was a power to make people turn up to Parliament.
Chris Bryant MP, a phone-hacking victim and ex-Labour minister, said that the two men "have effectively been putting two fingers up to the Commons culture, media and sport committee and to parliament".
He had proposed amendments to the motion debated, which called on MPs to approve the privileges committee report.
The privileges committee is set to look at what powers Parliament has to punish those who are found to be in contempt.
Misleading the committee
The News of the World had previously claimed that the illegal practice was limited to a single reporter and a private investigator with whom he worked.
But evidence emerged that hacking was more widespread and the paper was forced to close in 2011 because of the scandal.
The Commons privileges committee found that Mr Myler misled the culture committee by denying that he was aware of phone hacking or other wrongdoing by staff, apart from royal correspondent Clive Goodman who was jailed in 2007 for hacking-related offences.
It said Mr Crone misled the committee on the same issue and also with regard to the "significance of confidentiality" in a settlement reached between the paper and Professional Footballers' Association boss Gordon Taylor.
Mr Myler said at the time that the findings were "profoundly disappointing".
Former legal manager Mr Crone said he did not accept the findings made against him and stood by his evidence on both issues for which he was criticised.