Channel Tunnel reopens after power failure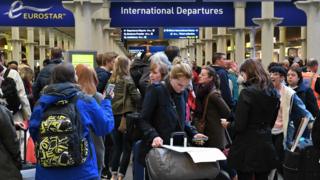 Thousands of passengers were left stuck on trains or in long queues after Channel Tunnel rail services were suspended due to a power fault.
The tunnel has now reopened after problems with the overhead power supply began at about 14:00 BST.
Eurostar, which runs passenger trains from London St Pancras, and Eurotunnel, which operates freight and car services, were both affected.
Passengers are advised to rebook their journey through the Eurostar website.
Eurostar, which apologised for the problems, said the 18:01 BST to Paris Gare Du Nord was its first service to resume from St Pancras.
The company added that services running for the rest of the day were back to normal and were expected to run on time.
Terry Mouysset, 62, was travelling home to Paris and hoped to get a seat after the 16.30 BST service was cancelled.
"It was a bit chaotic - they didn't handle the queuing properly and they have not given enough information on the situation, if we have missed our train," she said.
Eurotunnel warned there was a backlog on its services with delays of up to three hours.
A spokesman for Eurotunnel said extra freight services would be rescheduled on Tuesday night.
Earlier, passengers were offered transfers to Dover and on to Calais by ferry.
Delays built on the M20 towards Folkestone because of the halted services.