UK tourists in Thailand advised to 'respect' mourning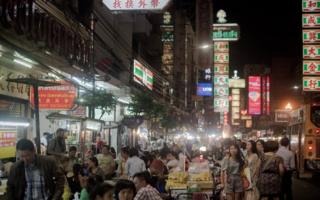 British tourists in Thailand have been advised to "behave respectfully" and dress in "sombre" clothing while the country mourns King Bhumibol Adulyadej.
Thailand has entered a one-year period of mourning following the death of the 88-year-old monarch.
In updated advice, the Foreign Office said on Thursday that people should "respect the feelings and sensitivities" of the Thai people.
It said access to entertainment venues may be limited.
The FCO issued updated travel advice after the death of King Bhumibol, saying: "Following the official announcement of the death of His Majesty King Bhumibol Adulyadej, there is now an official period of mourning of one year from 14 October 2016.
"You should respect the feelings and sensitivities of the Thai people at this time."
Obituary: King Bhumibol of Thailand
The FCO said access to entertainment, including restaurants, bars, and shopping areas may be restricted and visitors should behave respectfully when in public areas.
"If possible, wear sombre and respectful clothing when in public. Check local media regularly and follow the advice of the local authorities," it said.
Thailand is well known for having some of the strictest lese majeste laws in the world, which protect the most senior members of its royal family from insult or threat.
Thailand's lese majeste laws explained
According to Thailand's criminal code, anyone who "defames, insults or threatens the king, the queen, the heir-apparent or the regent" could be punished with up to 15 years in prison.
Lese majeste complaints can be filed by anyone, against anyone, and they must always be formally investigated by the police - but there is no official definition of what constitutes an insult to the monarchy.
In a televised address to the nation, Thailand's Prime Minister Prayut Chan-ocha said the country would hold a one-year mourning period and all entertainment functions must be "toned down" for a month.
Crowds of people have publicly grieved the king's death, wearing pink or yellow clothing in his honour and holding photos of the king.
The death of King Bhumibol means Queen Elizabeth II of Britain and the Commonwealth Realms becomes the world's longest reigning monarch.