MoD 'no civilian deaths' claim in Syria strikes challenged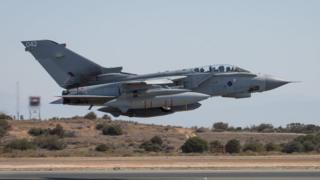 Monitors have challenged a UK claim that no civilians have died during air strikes which have killed 1,700 fighters in Syria and Iraq.
The Ministry of Defence said 1,571 IS fighters had been killed in Iraq since bombing began two years ago, and 181 had died in Syria since December 2015.
It said "detailed assessments" showed that no civilians had been killed.
Monitoring group Airwars said if the claim was true, it was "unprecedented in the history of modern warfare".
'Daesh being defeated'
The figures, which were released to the Press Association and cover 1,066 air strikes up to September, show a spike in the number of deaths in Syria (108) during August.
RAF Typhoons, Tornados and Reaper drones supported Kurdish forces as they took control of the city of Manbij, in Aleppo province, from so-called Islamic State, also known as Daesh.
The UK has killed proportionally more fighters in Iraq, where it operates with the support of the government.
Defence Secretary Sir Michael Fallon said: "Daesh is being defeated. It is being driven back. It now occupies less than 10% of Iraqi territory."
'Uncomfortable position'
The number of IS members killed is an estimate based on "post-strike analysis" and has not been confirmed by visits to the targeted areas, the MoD said.
But monitors at Airwars said this "air-only" assessment meant the UK could not claim there were no civilian deaths.
Airwars director Chris Woods said he had raised concerns about 35 incidents in the first six months of this year where there had been reports of civilian deaths and RAF aircraft nearby.
"Britain is in the uncomfortable position of being in the same position as Russia in claiming that large numbers of air strikes have killed no civilians," he said.
"From the air alone they cannot know the effect that their air strikes are having on the ground."
The MoD said RAF pilots operate under strict targeting procedures to minimise the risk of civilian casualties, including the ability to direct fire away from a target if civilians enter an area under attack.
A spokesman said: "The evidence from detailed assessments of each strike is that we've avoided any civilian casualties so far in this conflict."