UK has lowest proportion of female judges in the EU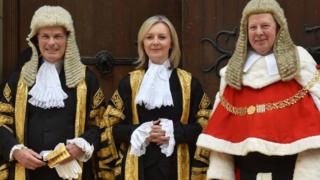 The UK has the lowest proportion of female judges in the EU, according to research by the Council of Europe.
The report says 30% of judges in England and Wales are female. The figure falls to 23% in Scotland and Northern Ireland.
Across Europe, only Azerbaijan (11%) and Armenia (23%) have lower proportions.
On Tuesday, Justice Secretary Liz Truss criticised the lack of diversity in courts and the legal profession.
The figures - which date from 2014 - were published in a Council of Europe report on judicial systems. The Council is separate from the European Union.
---
Highest and lowest percentage of female judges in Europe
Slovenia 78%
Latvia 77%
Romania 74%
---
Azerbaijan 11%
Armenia 23%
Northern Ireland and Scotland 23%
---
According to the report, 51% of judges in Europe are female.
In her speech to the Conservative Party conference, Ms Truss said: "A modern justice system is not just reflected in its practices and processes but in its people.
"Currently only one in seven of QCs and one in three of partners in law firms are women.
"Fewer than one in 10 judges come from ethnic minorities. Only a quarter went to state school.
"This is modern global Britain - we can do better than this."
The Council of Europe's figures refer only to professional judges.
According to Ministry of Justice data, 53% of magistrates in England and Wales are women.