Concerns about 'Fake Sheikh' methods 'ignored by CPS and Met Police'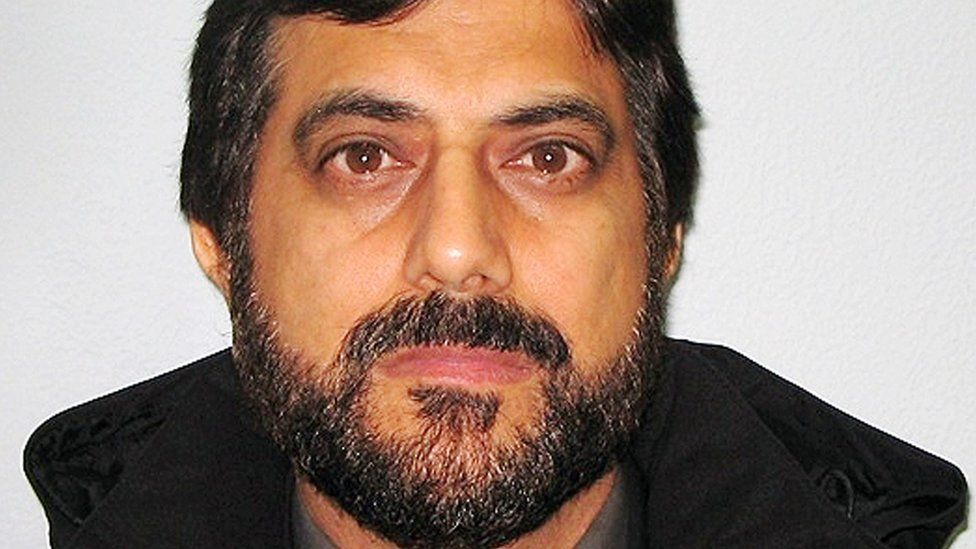 Concerns about the methods used by the undercover journalist known as the "Fake Sheikh" were ignored, a lawyer representing people convicted as a result of his stories has said.
Siobhain Egan told the BBC that the CPS and Met Police did not act on concerns that Mazher Mahmood had falsified evidence and worked with criminals.
Mahmood was convicted on Wednesday for perverting the course of justice.
The CPS said defence teams had the opportunity to raise concerns.
Mahmood, the 53-year-old former News Of The World investigations editor was found to have altered evidence in the collapsed drugs trial of singer and former X Factor judge Tulisa Contostavlos.
His driver, Alan Smith, 67, was also found guilty of the same charge, following a trial at the Old Bailey.
Ms Egan is representing six people who are seeking leave to appeal against their convictions, including retired boxer Herbie Hide and former London's Burning actor John Alford.
Speaking to BBC Radio 4's Today programme, Ms Egan said Mahmood's methods had been known for years to the Met and the CPS.
These methods included falsifying evidence by splicing video and audio evidence, she said.
She said: "The CPS special prosecution team, as it was then, dealt exclusively with these prosecutions and in my view did not seek to test the weight or the veracity of the evidence.
"As I say, there was a certain MO Mahmood would employ. The same assertions were made by reputable defence teams time and again to the CPS, which were ignored.
"You also have the Met Police. We now know there were internal investigations by the anti-corruption team at New Scotland Yard into Mahmood's relationships with serving police officers."
The self-styled "king of the sting" claims to have helped in the convictions of 100 criminals during his 25 years as an investigative journalist
He posed as various different characters, including a sheikh
His targets have included spot fixing Pakistani cricketers, ex-England football manager Sven-Goran Eriksson, former Blue Peter presenter Richard Bacon, the Countess of Wessex and Princess Michael of Kent
His methods were controversial and some trials stemming from his investigations collapsed, including that of an alleged attempt to kidnap Victoria Beckham
Many details about him were a mystery, and his contract prevented his photograph ever being published
Mahmood has defended his actions, telling the Leveson Inquiry into press standards that the "ends justify the means"
Mahmood and Smith's trial heard that Miss Contostavlos, a former X Factor judge and singer, had been targeted by Mahmood, who posed as an influential film producer who wanted her to star in a Hollywood blockbuster.
Mahmood met the singer at the Metropolitan Hotel in London in 2013 and she allegedly arranged for him to be sold half an ounce of cocaine by one of her contacts for £800.
She was later arrested and charged with being concerned in the supply of a class A drug, after Mahmood from Purley, south London, handed evidence to police.
But her trial was eventually thrown out, the Old Bailey was told, after driver Smith was found to have changed his police statement, removing comments that she made to him expressing her disapproval of hard drugs.
Neither Mahmood nor Smith gave evidence during the trial, but it was said on Mahmood's behalf that there had been a "misunderstanding" of his evidence as he was "steamrollered" with complicated questions.
Nazir Afzal, the chief executive of the Association of Police and Crime Commissioners, told the Today programme that the law around "citizen investigators" needed to be taken "a bit more seriously".
He said: "There is a difference here again between the police and the public, or the citizen.
"The police have very strict regulations about how far they can go when it comes to in effect encouraging criminality and when it comes to citizen investigators or undercover reporters, as in Mahmood's case, they have very little, actually, in terms of restrictions and that's perhaps an issue that policy makers should take a bit more seriously."
Following the verdict, lawyers have said 18 other people targeted by Mahmood now plan to bring civil claims against him, which could total £800m.
Some of the individuals were convicted of crimes which, they argued at the time, came as the result of false evidence.
Both men will be sentenced on 21 October.
A CPS spokesman said: "In cases involving Mr Mahmood the defence had the opportunity to fully scrutinise all the evidence presented to the court and to raise any concerns about the nature and fairness of the case with the judge, who would decide if it should proceed.
"Those defendants who did not plead guilty were able to present their own evidence and test the prosecution case before a jury."
The spokesman said it had identified 42 cases involving 72 defendants with links to Mahmood and had managed to contact representatives in 25 of those cases.
He said it was now up to defendants and their legal teams to decide whether to apply to appeal against their conviction.
He added: "To date we are aware of two applications by convicted defendants for leave to appeal conviction. Both were refused by the Court of Appeal."
The Metropolitan Police (MPS) said in late 2014 it received a complaint in relation to the conduct of police officers and a national investigative reporter.
It added: "These matters did not meet the threshold for a complaint and were not proceeded with."
It said it would only re-investigate cases in which Mahmood provided evidence "where a conviction was overturned and the CPS referred the case back to the MPS with concern regarding the evidence presented at trial".