Prisoner resettlement scheme raises concerns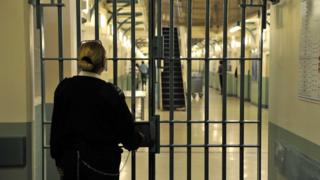 A flagship government policy to support and supervise inmates leaving jail has been severely criticised by inspectors.
The chief inspectors of probation and prisons for England and Wales said the "Through the Gate" scheme for offenders serving prison terms of less than 12 months was failing to find them jobs.
In some cases the public was being put at risk, their joint report said.
Ministers said a review of the reforms set up by Chris Grayling when he was justice secretary was taking place.
The 2014 overhaul aimed to help provide short-sentence prisoners with a mentor, a place to stay and training or a job.
All prisoners sentenced to terms of a year or less are now subject to 12 months of supervision on release.
High-risk offenders come under the supervision of the National Probation Service, with the remaining work assigned to 21 newly-created Community Rehabilitation Companies (CRCs).
But of 86 offenders whose cases were examined in detail by inspectors, the report said only a minority had found accommodation through the scheme, just one had been assigned a mentor, and none had secured employment.
"Public protection work around short sentence prisoners is weak, and this is a systemic problem," they said.
'Vital reforms'
Inspectors said re-offending rates among the former prisoners were "concerning" and the risk of harm they posed was not always recognised, meaning victims - particularly in cases of domestic abuse - were not always protected.
In one case, a registered sex offender disappeared after being released without anywhere to live.
While the picture was more positive for women leaving prison, the report said many probation officers held "an almost fatalistic acceptance of the likelihood of failure".
The inspectors recommended ministers should review the contractual requirements to "better incentivise CRCs to develop their approach to the successful resettlement of prisoners".
HM Chief Inspector of Probation Dame Glenys Stacey said: "There is still the potential for change that government and others wish to see.
"But turning prisoners' lives around is difficult, and success in individual cases is not guaranteed, even when everything possible is done, particular for those with mental illness or addictions."
Justice Minister Sam Gyimah said: "We are already carrying out a comprehensive review of our probation reforms to improve outcomes for offenders and communities."
He added: "Public protection is our top priority and we will not hesitate to take the necessary action to make sure our vital reforms are being delivered to reduce re-offending, cut crime and prevent future victims."