Countryfile One Man and His Dog winner announced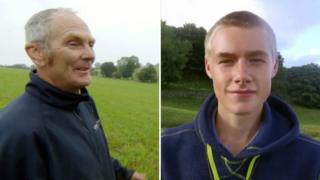 A farmer from the Cotswolds has won the 40th One Man and His Dog competition on BBC One's Countryfile programme.
Dick Roper, who worked with sheepdog Will, said it was "lovely to bring the trophy back to England".
The contest sees shepherds and herding dogs from England, Wales, Ireland and Scotland competing against one another
Ireland has won the coveted trophy for the last three years, and the competition has been broadcast on Countryfile since 2013.
Mr Roper was assisted by 16-year-old handler Tom Blease from Cumbria.
Mr Roper, who lost sight in his right eye last year, said: "Being the 40th anniversary makes it very, very special.
"And for me, working with such a nice young handler as Tom, was very special too."
The competition was broadcast in an hour-long special on BBC One.
Countryfile presenter Anita Rani said: "I was amazed by the level of skill shown and the relationship between shepherd and dog. I was particularly impressed by the skill of the young handlers.
"Another new and fantastic experience on Countryfile."
The competition was first broadcast by the BBC in 1976 and at its peak in the 1980s attracted eight million TV viewers.