New in the UK: The quirks of the British way of life for foreign students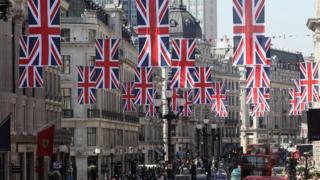 If you have lived in this country long enough, words such as "bobbies", "quid" and "twelve-ish" will sound unremarkable to you.
And having two taps dispensing hot and cold water separately may seem normal to you.
But there are many new starters at UK universities this month who may find these quirks of British life either fascinating or weird.
Every year, thousands of students from across the globe come to the UK to study and they are expected to hit the ground running.
But for some of these first-timers, fitting in to a new country can prove challenging during the first few weeks.
As the new academic year starts, some international students tell us about aspects of the Great British way of life which plunged them into a state of confusion.
The 'Northern line' that goes south
Areej, Syria - Goldsmiths, University of London
Areej may now appear confident navigating her way through London's underground network but she was in complete despair just a year ago.
"I only had two days to get used to the city before class started so I didn't really have time to understand the tube map. I had to go to the university riding the Northern line.
"So I arrived at the station and found a sign that said 'Northern line, Southbound'. I was shocked because I didn't understand what that meant because northern line goes north, so why is it going south?
"In Syria we don't have trains anymore, so I'm not used to the system. I didn't know that different trains can pass through the same platform and go to different places.
"From Surrey Quays, my phone app tells me to go to platform one and then I go there and jump on the first train I see only to discover that I'm going the wrong direction.
"Then I get off, go back to Surrey Quays and get on the wrong train again. I wasted an hour that day and I was so frustrated."
'Hi love'
Moustafa, Egypt - University of Manchester
"I realised that strangers will call each other 'love' as a form of greetings which honestly, I found intimate and welcoming but still strange. I think it kinds of build this instant rapport.
"But back home [in Egypt], you would rarely find strangers greeting each other with such intimate words. If a stranger called another stranger 'love', people might get offended due to cultural differences.
"I hope I don't pick up on it because if I use it back home, I'm pretty sure I'm going to get into trouble especially with women."
'Driving on the wrong side of the road'
Famous, Ghana - Cardiff University
"My whole life, I've driven on the right back in Ghana. This is the first time I'm seeing people driving on the left hand side and I'm still looking out for traffic from the opposite direction. I'm confused and still struggling to deal with this.
"Also, the rooms here are smaller than I thought. I have a small bed and I'm trying to get used to it. The good thing is that, the culture and system allows us to integrate and make new friends."
The missing spice
Virgil, Philippines - LSE
"We (Filipinos) are used to a lot of spices in our food. We are big on taste and it's really good when we feast. But I noticed that what is traditionally known as British food is a bit bland.
"And the most surprising thing I've noticed after being here for three weeks is the bikers [cyclists]. They are absolutely confident riding their bikes alongside the big red buses. I'm even scared for their safety but it seems they really know what they are doing."
London: The cosmopolitan city
Amir, Egypt, Goldsmiths, University of London
"One of the main fascinating things is how diverse London is. I've seen so many people from different countries, all of them connected in London. For me, this shows how cosmopolitan London is.
"I've been in London for eight days but I have tried five different cuisines from five different countries."
Read more:
Advice for foreigners on how Britons walk
After Freshers' Week, the sexual health clinic rush
Do students pick universities because of movies?