Adebolajo inquiry: Lee Rigby killer's Kenya mistreatment claim dismissed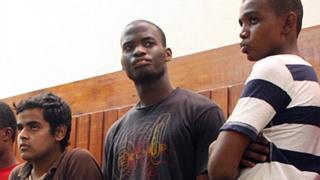 An inquiry into Michael Adebolajo - one of the killers of Fusilier Lee Rigby in 2013 - has found no evidence of UK involvement in his arrest in Kenya in 2010 or of subsequent mistreatment.
Adebolajo had alleged mistreatment by Kenyan authorities before his deportation to Britain.
There had also been allegations of a conspiracy involving British intelligence to arrest him.
The Intelligence Services Commissioner found no evidence for either claim.
However, in a report, the commissioner did criticise MI6 over "serious failings" in the way it dealt with events.
He also criticised what he said was "wholly inadequate" co-operation from MI6 with his inquiry.
Adebolajo had been arrested in Kenya in November 2010 as part of a group suspected of planning to travel to Somalia to join the Islamist militant group al-Shabab.
He was held by the Kenyan authorities and then deported to Britain. He made allegations that he had been mistreated during his time in Kenyan custody.
Adebolajo is presently serving a whole-life term for murdering Fusilier Rigby. He and an accomplice Michael Adebowale, who was jailed for a minimum of 45 years, drove into Fusilier Rigby with a car before hacking him to death in Woolwich, south-east London, in May 2013.
Adebolajo's allegations of mistreatment in Kenya raised questions about whether MI6 - which works closely with Kenyan counter-terrorism units - had been in any way complicit in his detention or treatment there in 2010.
A report by the parliamentary Intelligence and Security Committee in 2014 had raised further questions which led to a deeper investigation by the Intelligence Services Commissioner.
'Defensive' tone
The commissioner's report, published on Thursday, found no evidence that Adebolajo was actually mistreated or that Britain had been involved in engineering his arrest.
But the commissioner, Sir Mark Waller, did say that MI6 had made mistakes in following correct procedures.
He said he was not satisfied that MI6 had sought and obtained assurances from the Kenyans regarding any mistreatment of Adebolajo, even though MI6 claimed it had done so.
Another concern was that MI6 had not recognised that the circumstances of the arrest meant that officers needed to follow a set of rules called the consolidated guidance. There were also "serious failings" in its subsequent investigation into the allegations Adebolajo made on his return to Britain.
The inquiry was particularly critical of MI6's co-operation with the commissioner's investigation, describing it as "wholly inadequate". MI6 failed to consult properly with its own staff and senior management then refused to allow the independent counsel for the inquiry to be present during interviews, taking a "defensive" tone rather than engaging constructively.
The result was the inquiry took closer to two years rather than one year to complete, although the commissioner added that he did not believe there had been any kind of "cover-up" and that eventually - "after some difficulties" - he had received full co-operation from all the agencies involved.
In a statement, Prime Minister Theresa May said: "I welcome the fact that he has firmly rejected any suggestion of a conspiracy by the security and intelligence agencies in Mr Adebolajo's detention and that he has found no evidence to support the allegation that he was subject to mistreatment at the hands of the Kenyan authorities.
"The government will look carefully at Sir Mark's detailed analysis of the handling of this case and will take steps to address the issues where he has identified shortcomings in the response at the time, drawing upon the report's recommendations."