Solar tuk-tuk arrives in UK after road trip from India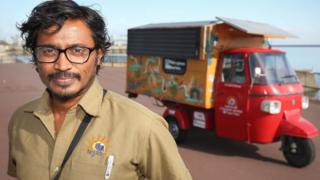 An engineer has arrived in the UK in his solar-powered tuk-tuk seven months after setting off from India on a 6,200 mile (9,978km) journey.
Naveen Rabelli, 35, drove his auto-rickshaw off a ferry in Dover five days later than planned after his wallet and passport were stolen in Paris.
He set off to raise awareness of electric and solar-powered vehicles.
India-born Mr Rabelli, who is now an Australian citizen, said he hoped to end his trip at Buckingham Palace.
The self-modified vehicle features a bed, passenger seat, solar-powered cooker and cupboard containing food donated by people along the route.
"The highlights have been the way people have helped me out along the way and supported me," said Mr Rabelli.
"People love the tuk tuk. They come forward and take selfies. And the moment I tell them it doesn't require petrol their minds are blown."
Mr Rabelli's adventure began in Bangalore in India before the tuk-tuk was shipped to Iran. He then drove through Turkey, Bulgaria, Serbia, Austria, Switzerland, Germany and France.
But he had to apply for an emergency passport after the theft in the French capital, which took place when he parked to use a toilet.