Drugs service criticised after deaths on the Wirral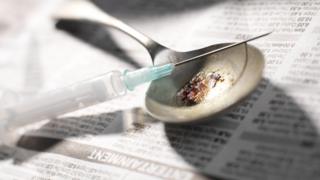 Public Health England has been asked to step in after Wirral Council expressed concern over the number of deaths among drug users and alcoholics in its area.
PHE was contacted by the council after service provider, CGL, reported 74 deaths over the past 18 months.
CGL staff told the BBC workers have too many clients and high-risk drug users lack support.
But the charity said it was supporting vulnerable adults and young people and offers a range of treatments.
CGL has been heavily criticised for its services on the Wirral and in two other areas.
The charity, which denies it is being investigated, said 70 of the Wirral deaths were due to long-term health problems not overdoses.
It stood by the quality of its services, adding it was a "compassionate organisation".
Public Health England said it was "working collaboratively with a number of local authorities including Wirral".
CGL staff allege there is a push for users to become abstinent even when it is not in their best interests - a claim the charity strongly denies.
'Daily intervention'
Staff also said they have too many clients which means vulnerable, high-risk drug users are often left without support.
Former addict Francis Cook, who has lost friends to drug-related deaths, said there were serious questions for CGL to answer: "Whoever is running the service has to be responsible for the patient group.
"I'd hate to point the finger at any individual but I think management has been appalling," added Mr Cook.
Dr Prun Bijral, CGL's medical director, denied some addicts were left without support, adding: "The current average caseload is 51 people per recovery co-ordinator, with caseloads ranging from 15 to 73 people covered by 63 case workers in total."
People who need daily "intervention" receive it, he added.
Wirral Council said: "As soon as concerns were raised we asked Public Health England for support.
"We are confident people in Wirral are receiving excellent services in this area but, as with every one of our commissioned services, it will be kept under constant review."