Junior doctors row: Views from both sides of the dispute
Proposals for an unprecedented series of five-day strikes by junior doctors have caused division within the profession.
A week of strikes by junior doctors in England this month will be followed by three more five-day walkouts in October, November and December.
Here, two junior doctors explain how they feel about the proposed industrial action.
---
Dr Tom Oates, junior doctor nephrologist, lecturer at University College London and member of the BMA
"I was initially supportive of strikes and the actions of the BMA. I voted against the contract, but I now find it difficult to support the BMA and these new strikes.
"They talk about contracts being imposed on doctors but I feel strikes are being imposed on their members.
"I am uncertain where the mandate is for these strikes or indeed what the BMA wish to achieve from them.
"I am unsure of whether I can strike at such short notice and for so long with a clear conscience.
"However, the way in which the government, and Jeremy Hunt in particular, have wilfully and repeatedly misused statistics about a so-called weekend effect, and pushed an unplanned, uncosted, unmodelled and undefined vision of a seven-day NHS to bully the profession, is utterly outrageous.
"It seems likely that no progress will be made until Jeremy Hunt goes and the BMA learns some lessons on conducting effective industrial relations.
"The people driving this are junior doctors who don't have experience in managing industrial relations and that is evident in the chaotic way this has been managed."
---
Dr Gadi Shalom, junior doctor at Tameside Hospital in Manchester and regional representative for the BMA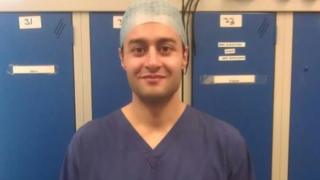 "This is unchartered territory for all of us and it is very scary. I am supporting and taking part in these strikes but I am doing it reluctantly.
"All of us feel this is an act of desperation as we have no other choice.
"We know we are inconveniencing patients for five days, but it is so we don't inconvenience them for life.
"The changes that the Department of Health is bludgeoning through are going to create irreversible damage to the NHS.
"We are all worried about losing the support of the public and that is because we care about the public. They are, after all, our patients who we care for.
"We are not politicians or spin people but this is unprecedented in the history of the NHS and there is a reason for that.
"I really hope people ask 'what has made it come to this?'."