Olympic victory parade: Manchester in talks to host event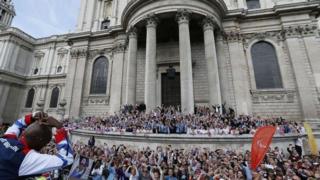 Manchester City Council says it is in talks about hosting a parade to celebrate the achievements of Team GB at the Olympic and Paralympic Games.
The council said it was in discussions with the government and British Olympic Committee about hosting the event.
Earlier, Mayor of London Sadiq Khan said he was "keen" for a homecoming event to take place in the capital.
Manchester is home to several medal winners, including Team GB cyclists and Taekwondo gold medallist Jade Jones.
The athlete, who retained her Olympic title in Rio on Thursday, told Sky News there should be a parade to "inspire more people".
Mr Khan said he was in favour of marking the athletes' successes but needed to talk to the government to find "the best way".
Meanwhile, there have been several calls for the parade to be held outside the capital.
'Olympic heroes'
Former Olympics Minister Tessa Jowell told the BBC's Victoria Derbyshire programme: "We don't necessarily want to insist that every moment of national celebration is held in London.
"What about Birmingham? What about Manchester? Hull will be the city of culture."
MP Andy Burnham, Labour's candidate to be mayor of Greater Manchester, tweeted:"Tessa's right. So how about the place where all those cycling medals were made - Manchester?"
Former Labour Sports Minister Richard Caborn told the Daily Mail: "It should not just be another big event in London for the tourists - why shouldn't it be in Sheffield, or in Leeds?"
---
Why is Manchester keen to host the parade?
The northern city is certainly basking in a golden glow from Rio.
The training centre for Team GB's track cycling athletes, who have brought home 11 Olympic medals, is based in Manchester with many of the team living nearby, including Sir Bradley Wiggins.
Jason Kenny, now one of Britain's most decorated Olympians, hails from Bolton in Greater Manchester while team pursuit gold-medalist Steve Burke comes from nearby Colne in Lancashire.
Taekwondo star Jade Jones, originally from Flint in north Wales, now lives and trains in Manchester.
Rower Matt Langridge, who won gold in Rio with the men's eight, was born in Crewe and grew up in Northwich, Cheshire.
A number of athletes also bringing home medals live over the border in Yorkshire. The Brownlee brothers, diver Jack Laugher and cyclist Ed Clancy are all proud Yorkshiremen.
---
A Downing Street spokesman said the government would set out its plans for a celebration in due course.
"We want to make sure that the fantastic achievements of our Olympic heroes are properly recognised and we are working on plans to celebrate their success," he said.
London has hosted victory parades for returning Olympic and Paralympic athletes since the 2004 Athens Games.
Smaller parades are expected to be held for individual athletes in their home towns.
The town council in Stone, Staffordshire, has said it will hold a parade for K1 slalom gold medallist Joe Clarke, 23, who will be hoisted aloft in his kayak on 29 August.
The vast majority of Team GB's Olympic athletes are due to return to the UK next week, arriving at Heathrow on Tuesday.
The team is currently ranked second in the Rio 2016 medals table, with 56 in total - including 22 gold.
ITV is planning on switching off all seven of its channels for an hour to encourage people to take part in sport following Team GB's Olympics success.
It will stop broadcasting from 09:30 on 27 August as part of the I Am Team GB campaign.
The scheme, organised with the National Lottery, will also see thousands of sports clubs open to let people try new sports for free.