Households could get fracking payments under government plans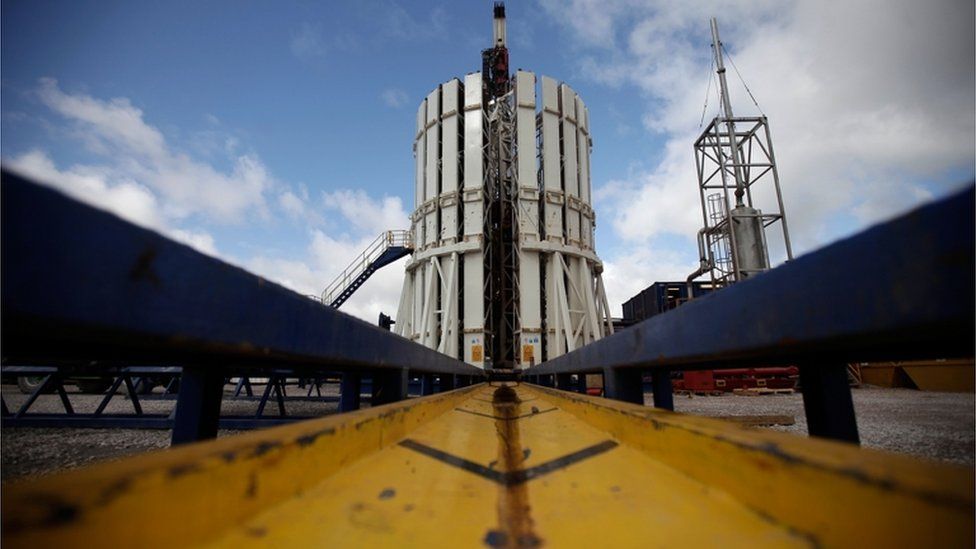 Residents affected by fracking could be paid some of the proceeds of shale gas projects, the government has suggested.
A shale wealth fund was unveiled in 2014 to set aside up to 10% of the tax proceeds from fracking to benefit communities in the UK hosting wells.
The PM is now considering paying the money directly to individual households instead of councils and local trusts.
But green campaigners say fracking carries environmental risks and people will not accept "bribes".
The government's plan is one option due to be outlined in a consultation on Monday.
It is expected the new fund could deliver as much as £10m to each community that has wells sited.
BBC business correspondent Theo Leggett said the government had not placed a figure on the amount potentially available to individual households, but said it was understood to be up to £10,000 each.
By Chris Mason, BBC political correspondent
One person's bribe is another's compensation.
But let's look beyond the language to the political context - and the potential broader ramifications.
The new Prime Minister Theresa May explicitly explained this change of approach by citing her big picture outlook on government when she moved into Downing Street just a few weeks ago.
It goes something like this: I'll stand up for you, not the big boys and girls.
And by floating this plan for fracking, what about the proposed high speed rail line between the north and south of England, HS2?
And what about a new runway in the south east of England?
Little wonder, perhaps, that the senior Labour MP Frank Field has likened the idea, in its potential political consequences, to the sale of council houses by Mrs Thatcher.
The shale wealth fund was established by ex-chancellor George Osborne to allow a percentage of the proceeds from fracking to be given to councils or community trusts to spend.
However, speaking ahead of the launch of a consultation on the fund, Theresa May said she wanted to make sure that individuals benefitted personally from the government's economic decisions.
She said the government wanted to help "ordinary families for whom life is harder than many people in politics realise".
"It's about making sure people personally benefit from economic decisions that are taken - not just councils - and putting them back in control over their lives."
Mrs May said the government would look to apply the same approach to other projects in the future.
Lorraine Allanson, a businesswoman in North Yorkshire who campaigns for fracking, welcomed the move, saying it could be done "very safely, very quietly" and would boost local economies.
But Mike Hill, an anti-fracking campaigner from Lancashire, said it was "absolutely outrageous" the government was now trying to "overrule" local communities who may have previously rejected fracking.
And Tony Bosworth from Friends of the Earth said: "Local people won't suddenly be bribed into accepting this unpopular practice, which poses risks to people and the environment."
Meanwhile, shadow environment spokesman Barry Gardiner said a recent government report indicated the cost of the gas generation in 2025 would be higher than the cost of both solar and onshore wind.
"We need to question why Theresa May is trying to lock us in to a dirty fossil fuel infrastructure for the next 30 years rather than backing the clean technologies of the future," he said.
Greenpeace said the government had "tried to sweeten the fracking pill with cash payments before, and it didn't work".
"If Theresa May wants to show the UK is open for business, she should reverse the policies that have harmed our vibrant clean energy sector, and back the technologies that can supply cheap, home-grown energy for decades to come," said Greenpeace UK's chief scientist Dr Doug Parr.
Green Party MEP Molly Scott Cato said the "misguided policy to encourage fracking demonstrates again that the government has no strategic energy policy. It is also another worrying indication of the failure of commitment to tackle climate change".
Shale gas is extracted using a controversial process known as hydraulic fracturing, or fracking. It is a way of extracting oil or gas from rocks by pumping liquid into them at high pressure.
The government has said the process could provide the country with greater energy security and create jobs.
But opponents say it can cause serious environmental pollution as well as disruption for people living near gas wells.
New licences for the technique were stalled after tests on the Fylde coast, in Lancashire, were found to have been the probable cause of minor earthquakes in the area.