Euromillions UK ticket wins £61m jackpot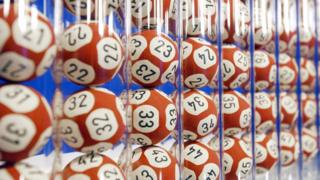 A ticket bought in the UK has won the £61.1m jackpot in the Euromillions draw, the National Lottery says.
Friday's winning numbers were 01, 21, 26, 40 and 50 and the winning Lucky Star numbers were 02 and 04.
The winner matched all seven numbers to scoop £61,102,443 - the fourth, and biggest, jackpot win in the UK in 2016.
Euromillions began in 2004 and the biggest prize in UK history is the £161m won by North Ayrshire couple Chris and Colin Weir in 2011.
UK ticket-holders won jackpots of £24.6m and £24m in February this year, and £51.8m in April.
Tickets for Euromillions are sold in nine countries - the UK, Austria, Belgium, France, the Irish Republic, Luxembourg, Portugal, Spain and Switzerland - with ticket-holders in all those countries trying to win a share of the same jackpot each week.
National Lottery operator Camelot runs Euromillions in the UK.
---
Top five UK jackpot winners
£161,653,000 - Colin and Chris Weir, from North Ayrshire, in 2011
£148,656,000 - Gillian and Adrian Bayford, from Suffolk, in 2012
£113,019,926 - Anonymous, 2010
£107,932,603 - Neil Trotter, from Surrey, in 2014
£101,203,600 - Dave and Angela Dawes, from Cambridgeshire, in 2011
---