Dover delays: Motorists find ways to cope with queuing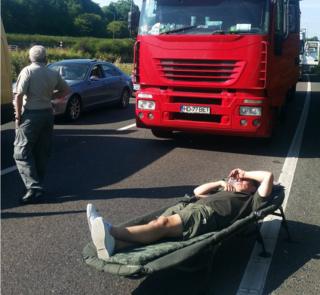 Motorists are continuing to face a long wait on their journey through Kent, as a result of delays with French border checks at the Port of Dover, combined with a large volume of summer holiday traffic.
Vehicles have been backed up on roads for miles for a second day, with many forced to spend the night in their cars. Families have been running short on food and water - but with a surplus of boredom and frustration. Here's how some of them have been passing the time.
Haider told the BBC he has been on the road for nearly 24 hours with his wife and three children.
"We left Birmingham at 9am yesterday morning. My little one has just thrown up, he's been feeling car sick for the last couple of hours and he's just thrown up.
"But apart from that the other two are OK. The good thing is we've got a seven-seater, and we took a couple of the seats out and put a foam mattress in, so that they could lie down and have a kip."
Ball games
And Ollie Burridge, who is travelling with his family to Barcelona from South Wales, told the BBC they had been stuck in traffic for 16 hours waiting to board a ferry - which they finally did on Sunday morning.
He said that while they were waiting, he and fellow drivers "got out their cars and were chatting".
He added: "There were some people playing football on the other side of the carriageway that had been closed.
"We got some bats and balls and played a spot of tennis over the central reservation. We made the best of it."
Twitter user Hannah Brisley posted a video, saying that she had thrown food down to people stuck on the motorway, and had been rewarded with a song.
Local resident Bronwen Page said on Saturday that she was "utterly disgusted at the response in our county".
"I went to my local supermarket and picked up 20 crates of water and handed out the water."
Joerg Walther, who was heading home to Frankfurt, said his family had to eat scones and chocolates they had bought as gifts, but were relieved when a local man came along and handed out pizza and soft drinks.
Amy Capron, who was on her way to Dover on Saturday, tweeted a picture of her companion sizzling some sausages in their van, while stuck for hours on the road leading to the port.
Another motorist, Jessica, also said on Saturday that the lengthy backlog of vehicles was "an absolute disgrace".
"We have a three and four-year-old with us, I'm pregnant as well and still have some morning sickness and with people using the side of the road as a toilet the whole thing is really unpleasant."
Kent County Council staff have been out and about on Sunday, assisting those needing the loo while stuck for hours in their car.
There has been some photographic evidence on social media of people having to improvise their toilet facilities on the roads leading into Dover - so those efforts by the council will no doubt come as something of a relief.
Dale Savage was caught in Saturday's delays for 12 hours en route to his brother's wedding. He said: "There are a lot of kids here, a lot of young children - a lot of people want to go on their holidays.
"There are no real frustrations, the real problem was no-one knew what was going on."
He described a "camping spirit... very much like Glastonbury" but without a band to see at the end of it.
However, some spoke of "overheated, glum faces" as the hours wore on and cars failed to move very far.
A Twitter user called Graham gave a light-hearted update about how some of the motorists queuing on Sunday were passing the time.
Meanwhile the sight of so many queuing motorists led charity workers, more used to dishing out aid overseas, to head south from Slough.
Ravi Singh, 46, and two others brought cereal bars and thousands of bottles of water in a van and pick-up truck. The three, volunteering as part of Khalsa Aid, offered their help via police and port authorities.
Mr Singh said: "We met a lot of young families with children, mostly people going on holidays, some heading back home to France.
"There was just total frustration. People didn't know what was going on. They could see the queues in front. I asked people what time their ferry was and they said they had already missed it.
"People were very, very frustrated and pulling their hair out."
The men handed out 5,800 bottles of water on Saturday, and say they are ready to help stranded motorists again on Sunday.
Water supplies were also being dropped along the jam of cars by police helicopter on Saturday.
---
Are you travelling to France via Dover? Are you a local resident? How have your plans been affected? Please email haveyoursay@bbc.co.uk with your experiences but do not endanger yourself.
Please include a contact number if you are willing to speak to a BBC journalist. You can also contact us in the following ways: