Defence firms claimed £61m of 'non-allowable' costs, says watchdog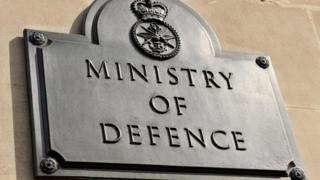 Defence companies have claimed £61m of expenditure from the taxpayer that was "potentially" not allowed under contract rules, a watchdog has said.
The Single Source Regulations Office (SSRO) said it had challenged claims including one firm that charged the MoD £32,500 for a "charitable donation".
It said that contractors' conformity to contract regulations had been "poor".
But the MoD said it did not accept that it was failing to comply and said it did not recognise the SSRO's figures.
'Inappropriate expenditure'
The regulator examined 34 "single source", or non-competitive, contracts - where the Ministry of Defence chooses to work exclusively with a company - and involving claims made from April 2015 to March 2016.
This type of contract is used in the defence industry when there is only one contractor able to deliver a certain piece of equipment, for example, or in the interest of national security.
The watchdog said in its "Interim Compliance Statement" that other "non-allowable" costs, such as charging to remedy faulty workmanship and bills for hotels and exhibitions, had been paid by the taxpayer.
One contractor claimed £34,000 for "staff welfare", which included a Christmas party, and another billed £10,000 for "entertaining costs", it said.
The suppliers then gained profit on top of these amounts, the SSRO said.
Other examples of "questionable costs" found by the SSRO included:
Sales and marketing costs
Warranty costs
Accommodation costs
Charitable donations
SSRO chairman, Clive Tucker, said the "non-allowable" costs claimed by contractors could have been used to pay the salaries of more than 2,000 corporals and sergeants or pay for nearly 4,000 service personnel to buy a home through the Forces Help to Buy Scheme.
He said: "For too long single source defence procurement went without effective scrutiny, and this is precisely the sort of inappropriate expenditure that the Defence Reform Act was enacted to kill off.
"Through the single source regime we want to encourage improvements from both industry and the MoD resulting in better value for money for the taxpayer."
'Chance to improve'
The SSRO report said the quality of information submitted by contractors remained a "serious concern" with "incomplete calculations, facts and information".
This meant the SSRO was unable to determine if an item was legitimate, it said.
Mr Tucker said the interim statement gave the industry "a chance to improve performance" before a final report would be published in January and firms "failing to comply" were to be named.
He said contractors "have usually been willing to remove any non-allowable costs we identify".
An MoD spokeswoman said: "We want the best deal for taxpayers.
"That's precisely why we set the SSRO up and it's good to see it's doing its job.
"There are improvements we can make but we do not accept that the MoD is failing to comply with the regulations nor do we recognise many of the figures it cites."