Lingerie firm Amoena wins mastectomy bra tax case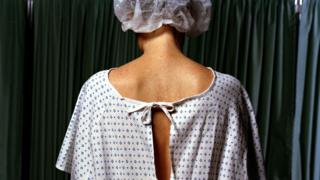 Lingerie company Amoena has won a legal battle over tax on special bras worn by women who have had a mastectomy.
The firm argued that such bras are not normal lingerie and should be exempt from European customs duty.
Ruling in Amoena's favour, the Supreme Court agreed the bra should be classed as an "orthopaedic appliance", artificial body part or other appliance to "compensate" for disability.
The ruling means the 6.5% customs duty will not be payable on the Carmen bra.
It overturns an earlier Court of Appeal decision in Amoena's legal fight against HM Revenue and Customs.
The latest decision, by five Supreme Court justices, comes after legal arguments at a hearing in London last month.
Their ruling states: "By holding the breast form in place, the bra enables it to perform its function.
"The bra thus 'performs a particular service relative to the main function' of the breast form."
'Ridiculous'
Marie Munks, who lives in Nottingham, had her right breast removed after doctors found a large lump.
The mother of two, who said she expected to die at times during her illness, called it "ridiculous" to impose taxes on mastectomy bras.
"These bras are important but they are also very expensive," the 33-year-old said.
"I have just bought five and it has cost me around £100."
The Carmen bra is sold on Amoena's website for £40 to customers who have undergone breast surgery and are buying it for themselves.
It is described as having two mesh pockets and allows the woman to wear two prostheses, or single ones on either side.
A mastectomy - an operation to remove a breast - is used to treat breast cancer.
A number of high profile names have spoken out about their experiences of mastectomy, including Hollywood star Angelina Jolie Pitt as well as BBC presenters Sian Williams and Victoria Derbyshire.
---
What are mastectomy bras?
Mastectomy bras are designed for women who use an artificial breast following surgery.
Some women use prostheses on a temporary basis prior to reconstruction, while others choose or are unable to have reconstruction and wear an artificial breast on a long-term basis.
They are moulded to resemble the natural shape of a woman's breast, or part of a breast.
A high-quality silicone prosthesis will move naturally when walking or lying down, and can give women balance, comfort and confidence.
They also compensate for the weight of a real breast, and so help to prevent medical problems such as bad posture or shoulder and neck pain.
Mastectomy bras cost between £10 and £50.
The charity Breast Cancer Care says it is best to wear a bra with features including soft seams and no underwires while recovering from breast surgery.
Several specialist retailers offer mastectomy bras, which are exempt from VAT if they are bought by someone who has had breast surgery.
In some cases a special surgical bra may be recommended after an operation. This is different to a mastectomy bra.