Max Clifford 'gyrated' in front of 17-year-old girl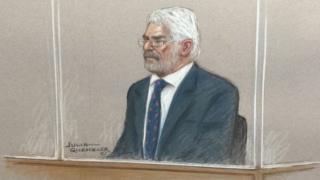 Former celebrity publicist Max Clifford "gyrated" in front of a 17-year-old girl, a court has heard.
Southwark Crown Court was told that Mr Clifford exposed himself to the woman, who cannot be named for legal reasons.
She claims Mr Clifford forced her to perform a sex act on him and that she thought he would "rape or kill" her.
Mr Clifford denies indecent assault in his London office in the 1980s. The prosecution has finished its case and the trial was adjourned until Monday.
The court heard that Mr Clifford was asked about the allegation in his police interview.
Det Sgt Jason Price, giving evidence, asked whether Mr Clifford remembered coming out of his office, blocking the alleged victim's access to a stairwell and exposing his penis.
Mr Clifford said: "No comment."
Denied allegation
Det Sgt Price then said in the interview: "You gyrated around, so one would assume by that it means moving your hips around."
Mr Clifford replied: "What? Dancing or something? No comment."
The alleged victim claimed that he put her hand on his penis and she said "I don't want to" but she "did as she was told" and only stopped when they were disturbed by a knock on the door.
At the start of the interview, Clifford gave a statement in which he denied the allegation.
His statement said he had never engaged in sexual relations with someone without their consent and "neither have I ever needed to coerce someone".
After his statement was read out in the interview, he answered "no comment" to the majority of the questions and said of the allegation: "Everything about it is totally untrue."
Some of the biggest names in show business, including pop mogul Simon Cowell, late reality TV star Jade Goody and boxer Muhammad Ali, were represented by Mr Clifford, of Hersham, Surrey, during his career
Mr Clifford will give evidence on Monday.