Max Clifford trial: Alleged victim 'told husband of assault'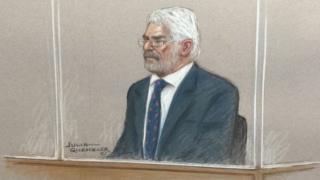 A woman who claims Max Clifford forced her to perform a sex act on him told her husband about the alleged incident in 2010, a court has heard.
Her husband told Southwark Crown Court she described the alleged attack before Mr Clifford was jailed for allegations related to Operation Yewtree in 2014.
The celebrity publicist, 73, denies indecently assaulting the woman, then 17, at his London office in the 1980s.
His defence counsel accuses the woman of making it up to get compensation.
'Difficult to hear'
Giving evidence at Mr Clifford's trial on Wednesday, the woman's husband - who cannot be named for legal reasons - recalled that "probably within a month" of their relationship starting in July 2010 she mentioned Mr Clifford.
It was around Christmas 2010 when she told him about the alleged assault.
He told the court: "She basically said to me that he had come towards her with his penis out and locked the door."
Mr Clifford stopped when someone knocked on the door and called his name out, the husband said.
He added it was "quite a difficult thing for me to hear", but he was "glad that she told me".
Mr Clifford was previously charged and given a prison sentence for allegations investigated by Operation Yewtree, the Met Police investigation set up in the wake of the Jimmy Savile scandal.
The husband said it was in May 2014, after Mr Clifford was sentenced, that the woman, by then his wife, contacted the police about her own alleged attack because she felt she needed "to say something".
She said giving evidence in court earlier this week had been like "going 10 rounds" with a champion heavyweight boxer, he said.
Sarah Forshaw QC, defending, has accused the woman of making up the allegations after reading in the news that Mr Clifford's other victims could get £200,000 in compensation. The woman denies the accusation.
Some of the biggest names in show business, including pop mogul Simon Cowell, late reality TV star Jade Goody and boxer Muhammad Ali, were represented by Mr Clifford, of Hersham, Surrey, during his career.
The trial continues.