Fans joke over England's defeat to Iceland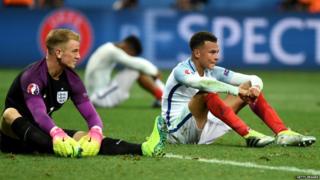 With the UK dealing with the fallout from one European exit, the last thing it needed was more drama.
But that is what it got on Monday, when England were dramatically dumped out of Euro 2016 by Iceland.
There was some positivity at the start, as fans began using the hashtag #EnglandvIceland to share their enthusiasm and hopes.
When Wayne Rooney's penalty, four minutes into the game, gave England the lead, there was a lot of love being shared. @kristy_leonie tweeted:"Oh Yes WHAT A GUY #Rooney #ENGICE".
@AndyLeeman91 shared this enthusiasm: "YES ROONEY!!! Perfect start!!!! #ENG".
But the love didn't last long. Iceland equalised within a minute, and their fans loved it.
England's embarrassing performance was summed up by Iceland's 18th-minute winner, with goalkeeper Joe Hart badly at fault.
This meme was being shared on social media as England fans trolled the players.
Then, cue the referendum jokes, as the realisation hit that Iceland, a country of 330,000 people, was about to cause another exit from Europe.
Soon after the final whistle blew on England's worst football humiliation in decades, manager Roy Hodgson resigned, and the Brexit jokes continued.
Read more: Reaction to England 2016
@TitanicGoal tweeted a mocked-up version of the England manager resigning backed with a familiar tune: "Roy Hodgson resigning is even better with the Titanic music..."
And fans mocked up new kits after the humiliating defeat.
The supermarket chain got in on the act too.
Meanwhile, Iceland celebrated their win, by clapping in unison, which really got the crowd going.
@K_Blaugrana tweeted: "This Iceland clapping celebration is awesome, gave me goose bumps."
By Rozina Sini