It's barking and it's back #DogsAtPollingStations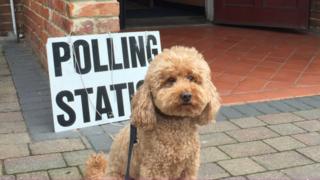 As voters head to the polling stations for the EU referendum so have some dogs - although cats and even a political polecat have been keen to get in on the act.
Thanks for sharing your pictures of #DogsAtPollStations.
Welsh Springer Spaniel Dyddgu went with owner Rhiannon Williams to Grangetown Pavillion, a former bowls club, in Cardiff.
Macey the dog lives on a farm in Wincanton in Somerset where a temporary polling station has been sited.
Don't worry Brody it happens to us all! Brody the golden retriever caught blinking in Heaton Norris in Stockport, Greater Manchester.
"What do you mean I can't vote?" asks Fausto in Richmond, London.
Orinoco looks happy to be at St Christopher's Church in Hinchley Wood, Surrey.
Albus joined owner Tony outside Aldermaston polling station in Berkshire.
Not wanting to be left out in the cold, or the rain, this cat decided to create an alternative trend by using #CatsAtPollingStations at Wilnecote Junior School in Tamworth, Staffordshire. And he wasn't the only one...
...with Atticus the polecat becoming a poll-cat for the day. Owner Alison Catterall from Low Wood in the Lake District said: "He's also capable of giving a sound bite. A very sound bite."