Battle of the Somme centenary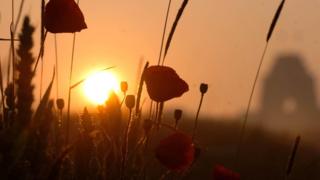 This year marks the centenary of the Battle of the Somme.
Starting on 1 July 1916 and ending on the 18 November, hundreds of thousands of British, French and German soldiers were killed in one of the bloodiest battles of the First World War. It took place on both sides of the River Somme in France.
The landscape of the Somme was devastated. Today cemeteries and memorials remain as a painful reminder of the men who fought and died during the battle.
For the 100 year anniversary of the Battle of the Somme we want to hear from you.
Do you have relatives who fought in the battle? We want to hear about them especially if you are travelling to France to mark the centenary.
Send us a picture of yourself holding up a photo of your relative who fought in the Battle of the Somme and tell us about him. You can take the picture at home, at an anniversary event you may be attending, in Somme, or a place that is significant to you. Your picture and story could be featured on the BBC. Send your stories and photos to us in the following ways.