Undercover policing inquiry considers dead children's IDs disclosure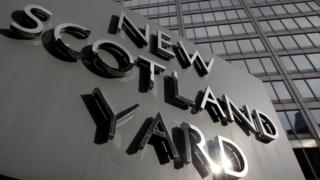 The public inquiry into undercover policing is to consider if bereaved parents should be told that officers used their dead children's identities.
Inquiry chairman Sir Christopher Pitchford will hear legal argument at a special session later on Wednesday.
The identities of at least 42 children are also understood to have used.
The inquiry is examining evidence of wrongdoing by disbanded undercover units, including how women were duped into having relationships.
One former police officer has called for the full facts of the "ghoulish practice" of undercover police taking dead children's names to be revealed.
The revelation that dead children's names were taken by officers deployed by the now disbanded Special Demonstration Squad (SDS) was one of the triggers for the public inquiry.
Officers often browsed cemeteries for details of a child who - had they lived - would have been their age, and then used the name as the foundation stone for their "legend".
Some would then research the family's background to help create a complete identity that would stand up to investigation, including visiting and memorising specific landmarks from their fictitious childhood.
An official internal police investigation has already discovered the identities of 42 dead children were probably used over four decades.
The true number of names used could be far higher.
Some 106 covert identities were created by the SDS alone between 1968 and its disbandment 40 years later.
The National Public Order Intelligence Unit - a former team of officers infiltrating political protest movements outside of London - used the technique and others are suspected of doing so too.
How the inquiry handles the possible disclosure of names is set to be an ethical and legal minefield.
Parliament's Home Affairs Committee has already called for the families affected to be given a full explanation about what happened. But many of those families don't know identities were taken.
Scotland Yard has accepted the inquiry must investigate how the tactic developed and why there was "insufficient thought" given to its effect.
But it also says there is no legal obligation to reveal the identities used and has separately argued that former undercover officers must be protected.
Jules Carey, solicitor for some of the families seeking answers, said the police's policy to "neither confirm nor deny" the existence of officers, unless compelled to do so, should not be used to conceal wrongdoing and "shut down accountability"
"The practice of using the identity of a dead child to construct an undercover police officer's legend without parental consent was abhorrent and unlawful," he said.
"There is a clear duty to now inform parents who wish to receive information about whether their deceased children's identities were used, and to provide a full and unambiguous apology to those affected".
'Unambiguous apology'
Peter Francis, one of its former officers whose revelations led to the inquiry, says others who went undercover should explain what happened and offer apologies to families.
"As a former SDS officer, I have already admitted in public that I used the identity of a deceased young boy when I acted undercover," he said.
"I would like to publicly and unreservedly apologise for the untold and immense grief this fully state-authorised ghoulish practice must have caused the family involved and indeed all the other families involved.
"I strongly believe any close family members of my stolen identity should be immediately informed.
"They should receive a full explanation as to why the identity of their child was used, without seeking their permission or approval. They should also be given a full and unambiguous apology by the police and if needed, free counselling."
Mr Francis added that he had offered to meet the family of the child whose identity he had used.
"For the sake of closure, I strongly believe all my former SDS colleagues who used stolen identities should offer to do the same," he said.