EU referendum: The catfight begins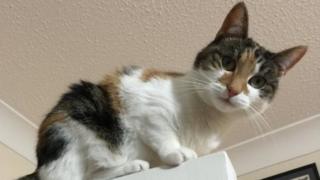 As the EU referendum campaign enters its final few days, both sides are using pictures of their pets to make their case online.
As MPs gathered in the House of Commons on Monday, the hashtag #catsagainstbrexit started to trend on Twitter.
After a weekend of sombre reflection, voters on all sides of the debate wanted to lighten the mood as campaigning resumed.
And it appears that our pets have very particular preferences when it comes to the EU referendum.
Pets against Brexit
Professor Lilian Edwards, a specialist in internet law from Strathclyde University, started the trend by sharing a picture of her cat and her hashtag soon became a viral hit.
"I was terribly upset by events last week" she told BBC News. "My cat looks very mournful and I wanted to make something that amused people.
"I've been reading quite a lot of stuff about the debate and one of the reasons people gave for not voting Remain was peer pressure and this idea that they didn't believe other people were voting Remain. I wanted to do something to make it acceptable."
In the post, Lilian's cat Java is pictured sitting in her bed supposedly upset because of the chances of Brexit. She urges fellow Remain supporters to retweet the hashtag with pictures of their cats.
Charlie Stross from Edinburgh and his cat Menhit, named after an obscure ancient Egyptian feline war goddess meaning "she who massacres", were only too happy to oblige.
"After months of the campaign I'm sick at the degree to which the debate has become bad-tempered and unpleasant," Charlie told BBC News.
"The whimsical cat hashtag seemed like an excellent way to make the point about excessive acrimony in political debate, so I joined in."
Labour town councillor Judi Sutherland was also keen to share what her cat Socks thought of remaining in Europe.
Andy Coates from Suffolk felt it was important that cats were not the only pets to be consulted on EU referendum.
He hasn't yet made up his mind about who to support and also couldn't pick between his cat Mop or dog Heather.
He told BBC News: "I thought a lighter approach to the general discussion was a good thing.
"This referendum is causing far too much nastiness," he said. "It's quite upsetting and cats and pets always raise a smile no matter which camp you're in."
Pets for Brexit
And as in any good debate the opposing side was keen to have its feline voice heard.
The Twitter account Pets for Britain has been sharing photos submitted by Leave supporters over the past few weeks.
David Brockwell from the Isle of Wight was also keen to add that it wasn't just dogs who wanted to leave the European Union. His cat Lily wasn't impressed by all the attention the Remain campaign was receiving.
Jacquie Parry from Dewsbury in West Yorkshire also noticed that her cat Monty was not impressed by the Remain campaign.
The Conservative Councillor Sam Waite, who has helped to deliver leaflets for the Leave campaign, told BBC News that his whippet/Staffordshire bull terrier mongrel Tango was also keen to get involved.
"I thought the cats against Brexit hashtag was both funny and ridiculous," he said.
"I looked at some of the photos that were being posted and immediately thought of a photo I had of Tango overlooking the Chew Valley in Somerset, which I thought was just calling out to be used in the whole 'looking to the world rather than looking inside the continent' part of the debate.
"I'm glad that there's a light-hearted element to what has been quite an intense campaign from both sides. I've only had positive feedback from the photo so far."
Reporting by Hannah Henderson