Yik Yak: The EU referendum questions you were too scared to ask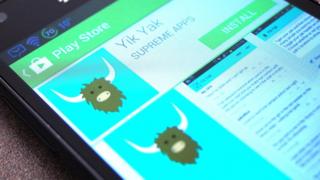 What do you do when you have questions about the EU referendum but you are too scared to ask?
Yik Yak, a social media platform, allows you to do just that because it's anonymous.
In the first ever question and answer session to be held on Yik Yak, users of the app sent their questions about the EU referendum to the BBC.
A member of the BBC's Reality Check team has been answering some of those questions on the site.
I study abroad (I'm an Austrian in Britain) How will this affect me?
If we leave the EU would it be a permanent move? Would we ever be able to rejoin?
Once a query has been asked, it doesn't stop users from adding to it or contributing their opinion.
How many jobs are we set to lose/gain if we leave?
One user had an interesting question about the Prime Minister.
Would David Cameron go live on TV and sing 'EU raise me up' if it meant Remain won the referendum?
The BBC experts response? "Maybe. I mean he really wants us to remain."
How has it come down to which side's facts do you trust more, rather than which facts you agree with most?
Here's how BBC news responded to this question:
"Both sides of the referendum campaign have been accused of making claims that are potentially misleading. BBC.co.uk/reality check has facts and accurate information to help people make up their minds."
Compiled by Rozina Sini