Euro 2016: The Brits who have nothing but praise for the French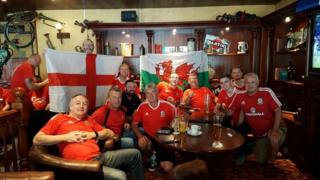 Euro 2016 may have been overshadowed by tales of trouble and violence but for many British fans the tournament has been nothing but a positive experience.
BBC News online readers have been sharing their stories of friendly banter, good food and getting to know people from other countries.
Peter Coleman travelled from Southampton to Lille. "There's a very nice atmosphere here." He says.
"I was slightly apprehensive about coming out to Lille after hearing the news about what happened in Marseille but I've had a very pleasant experience.
We just want to enjoy our time here like most people.
Today we have been watching the England v Wales game with a bunch of Welsh guys.
The French have been great
The Slovakian fans yesterday were friendly and the French have been absolutely great.
We did come across some Russians after the game yesterday, who weren't as friendly but this was expected given they had just lost a match.
I have to say, if I've seen anyone stumbling through the streets drunk, it has been England fans, but only a very small minority of them.
The game on Wednesday was well policed with excellent transport there and back on the Metro."
David Stevenson travelled to Rouen and Marseille for Euro 2016. He has described an equally pleasant experience.
"I hardly saw any violence while I was in France. On Friday I watched the France v Romania game in Rouen at a bar and the atmosphere was amazing. He says.
I donned my England shirt and was welcomed with open arms, the French really know how to have a good time and embrace everyone.
I even got my face plastered in French face paint.
When Payet scored that wonder goal for France I thought I felt the ground move, a mini earthquake certainly happened.
On Sunday I went to see Germany v Ukraine and when we went to the stadium I was with the Ukrainian fans and I told them I was there to support them.
They took me in as one of their own. They taught me their songs and national anthem and they were just really happy to have an English guy there among them.
It was a superb experience, I wouldn't have changed it for the world."
Lille is a lovely town
England fan Thomas Snee has been enjoying the French cuisine as well as the football.
"The French fans and residents of Lille have been a joy to be around.
Some England fans are slightly letting themselves down, but it is only isolated incidents around the train station.
Our hotel is right by the main location for these incidents but they are easily avoided. Other parts of the city have been fantastic and Lille is lovely town.
Personally, after a stroll around the Citadel, I've thoroughly been enjoying the local dish Carbonade Flamande, a beautiful beef stew, with a bottle of red and joining in with the chants 'Allez Le Bleu' with the locals.
I attended the Russian v Slovakia game on Wednesday and that was also fantastic, so if you can get a ticket for a game, come and join in the fun!"