Euro 2016: Alcohol ban and extra police ahead of England-Wales game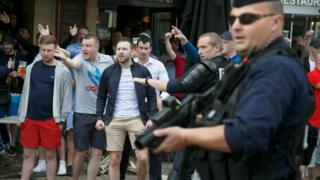 French authorities are restricting the sale of alcohol and drafting in 4,000 extra police in Lille ahead of England and Russia's next Euro 2016 matches.
Shops selling alcohol are closed until Friday, while some 350 bars will shut early on Wednesday and Thursday.
England and Russia fans are gathering in Lille, and the FA has expressed "serious concerns" about security after clashes between supporters last week.
Russia has been given a suspended disqualification from the tournament.
And six England fans were jailed following Russia and England's draw in Marseille on Saturday.
Fans of the two teams are due to cross paths again as England supporters travel to Lille ahead of Thursday's match against Wales - which is being held in nearby Lens - while Russia have played Slovakia in Lille itself on Wednesday.
---
At the scene
By James Reevell, BBC News
For the first time this week, Lille city centre has felt like it was hosting a major international football tournament.
Slovakian fans filled the streets with singing and horns, as England and Wales fans looked on.
For the third day running French police have stepped up their presence. Heavily armed in riot gear are visible across the city and plain clothes officers were stopping and searching Russia fans - clearly determined to spot any of the hardcore hooligans who caused such problems in Marseilles.
Outside Lille's train station in the early afternoon, England fans were drinking and singing loudly.
Riot police have been in close attendance, with a few small pushes happening between them and the fans who've had a few drinks.
The mood remains rowdy rather than threatening, but it is easy to see how things could turn. The news that Russia were losing their game was greeted with glee, with chants of "Russia's going home".
---
Michel Lalande, prefect of the Nord-Pas-de-Calais Picardy region, said the drinking ban would cover some parts of central Lille and the stadium.
Shops selling alcohol in the city closed from 18:00 local time (17:00 BST) on Tuesday and will reopen at 06:00 (05:00 BST) on Friday, he said.
However, the BBC's Geraint Owen in Lille says small supermarkets are still selling alcohol, which is being drunk openly on the streets.
Vince Alm, of the Football Supporters' Federation Cymru, said the ban is not enforceable.
"There are so many outlets around it's impossible," he said.
England fans are being discouraged from travelling without a ticket, and the authorities are asking fans if they can wait to travel on Thursday to watch the Wales game.
Those without tickets can watch the match in the city's fan zone, where lower strength beer will be sold.
Mr Lalande also said no beer would be sold in glass bottles as they can be used as ammunition, adding that anyone carrying out violence would be removed from the country.
British Transport Police (BTP) officers have been travelling with fans on Eurostar trains on Wednesday.
Eurostar is running some alcohol-free services, with no alcohol allowed through check-in or purchased at departure lounges or on board. BBC correspondent Paul Adams said some police officers were wearing riot gear, adding that some fans had cans of alcohol confiscated.
Assistant Chief Constable Alun Thomas of BTP said: "In addition to the patrols on Eurostar trains, officers will now extend their patrols on French rail services in order to support fans. Working with the French authorities we will continue to monitor the situation and send officers where they are needed."
There have been reports of minor disturbances between rival fans in Lille on Tuesday evening.
Footage was posted on YouTube of a scuffle between England and Russia fans which took place just after midnight, after the English group had left a pub in the city centre. Punches were thrown before a plain-clothed French policeman used pepper spray to disperse the two groups.
Russia has received a suspended disqualification from the tournament and been fined 150,000 euros (£119,000) over crowd trouble at the match against England in Marseille.
Uefa, the organisers of Euro 2016, said the punishment would be fully imposed if similar incidents happen at any of Russia's remaining matches.
'Serious concerns'
Chief Superintendent Steve Neill, in charge of a delegation of English police officers working with French police, told BBC Radio 5 live the incident at the weekend was "a very challenging environment" for police, with "very, very shocking scenes" unfolding.
Speaking from Lens, he said: "It was, for all of us - and it's a very experienced policing delegation - simply something we have never seen before, of that scale and that ferocity."
The majority of England supporters who were attacked had been sitting at bars and restaurants, in "what they perceived to be a safe place", and the attacks on them were "truly shocking", he added. While police had been concerned about "potential disorder", they did not expect anything on that level, added Chief Supt Neill.
He welcomed the restrictions on the sale of alcohol in Lille and praised the "proactive" approach of French police.
England could also face expulsion by Uefa if there is any further violence.
But in a letter to Uefa, Football Association chairman Greg Dyke rejected the suggestion that England fans were at fault for scenes inside the Stade Velodrome following Saturday's match with Russia.
And he said he had "serious concerns around the security arrangements" for Lille given that Russia was playing there on Wednesday.
England fans, particularly those without match tickets, had previously been advised to stay in Lille because Lens is so small, Mr Dyke explained.
Thousands of supporters are expected to follow Thursday's match between Wales and England at fan zones in the Place Jean Jaures in Lens and also Lille, which is 24 miles (39km) away.
More than 35,000 ticket holders are due to watch the clash in the Stade Bollaert-Delelis.
In other developments:
Some 35 people have been injured - four seriously, and most of them England fans - and a total of 20 people were arrested after three days of disorder in Marseille.
French prosecutors have said 150 Russian hooligans were behind the violence in the city's Stade Velodrome on Saturday, after Russian fans appeared to rush at England supporters.
---
Are you travelling to Lille or Lens for Euro 2016? Share your experiences. Email haveyoursay@bbc.co.uk with your stories.
Please include a contact number if you are willing to speak to a BBC journalist. You can also contact us in the following ways: