Relaxed Sunday for Queen after Royal Birthday pageantry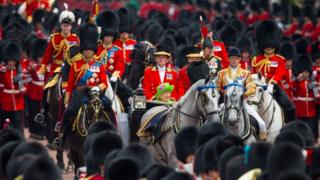 After the service at St Paul's on Friday and the pageantry of Trooping the Colour, the Patron's Lunch is being described as a more relaxed, informal affair.
It will be a unique event which will bring together senior royals, corporate sponsors and 10,000 picnickers seated at tables along the Mall's ceremonial route.
Many of the tickets were offered to charities with links to the monarch. The price of each ticket - £150.
The cost of entry has been criticised as has the fact the Patron's Lunch was not put out to tender and is being run by the Queen's grandson, Peter Phillips. His company will receive an undisclosed fee.
But Palace officials stress this is a costly, not-for-profit event which will help charities raise money and their profiles.
Given the nature of the British weather, the organisers will have on hand more than 500 litres of sun cream and more than 12,000 rain ponchos.