A 'symbolic' Trooping the Colour for Queen's 90th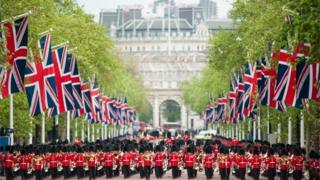 It's a military ceremony that dates back to the 18th century.
The then Princess Elizabeth first watched Trooping the Colour aged eight, from a balcony, when her grandfather George V was king.
As Queen she has taken part every year of her reign - and until the 80s rode on horseback - apart from in 1955 when it was cancelled because of a national rail strike.
Today it is a symbolic affair. Centuries ago the colour or flag was a rallying point in battle, clearly visible above the smoke.
On a smoke-free Horse Guards Parade the Queen will once again take part. And then, as always, she will appear on the Buckingham Palace balcony with other royals - including those who represent the institution's future.
The 90-year-old monarch has a busy few days ahead. Prince Harry has suggested the best present for his grandmother would be a day off so she could put her feet up, lie about and do nothing.