Queen's birthday service combined 'dignity and warmth'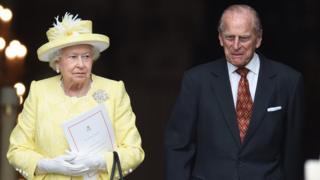 The Queen, born in the era of silent films, arrived at St Paul's Cathedral with the man who's been at her side for most of her adult life.
The Queen turned 90 in April; Prince Philip is 95 today.
The only acknowledgement of their age was the installation of a handrail to make it easier to get up and down the steps at the front of the cathedral.
The service, the church authorities said, had been designed to provide a balance between dignity and warmth.
It featured a new anthem - some music set to a German tune as a reminder of the Queen's ancestry - and members of the congregation who, like the Queen, have entered their tenth decade.
With Trooping the Colour on Saturday and a picnic on the Mall for 10,000 guests on Sunday, a long life and a long reign will continue to be celebrated.