Disabled man born after incest rape wins right to claim compensation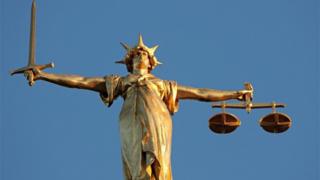 A man born with severe disabilities after his mother was raped by her father has won the right to claim compensation.
In a landmark ruling, the Upper Tribunal said the 28-year-old was eligible for an award under the Criminal Injuries Compensation Scheme.
The man, only identified as Y, has epilepsy, severe learning difficulties and hearing and sight problems.
His mother was abused by her father from the age of 11.
'Crime of violence'
Five years ago, an application was made to the Criminal Injuries Compensation Authority (CICA) arguing Y had sustained a personal injury that was directly attributable to a crime of violence, but his application was rejected, as was an appeal to the First Tier Tribunal.
But Judge Levenson of the Upper Tribunal quashed that decision and referred the matter back to CICA for further consideration.
The judge said the scheme provided for compensation to be payable to "an applicant".
"Clearly, at the time of the claim the applicant is a person," he said.
"There is no provision in the scheme that the applicant must have been 'a person' at the time that the crime of violence was committed.
"In everyday terms and in common parlance, it seems to me that he has suffered injuries.
"Those injuries have been sustained in, and are directly attributable to, a crime of violence."
CICA argues that by giving the words "personal injury" their natural meaning it is impossible to identify an injury without there having been a person in existence who had been injured.
The applicant was not a legal person at the time of the crime committed against his mother, and if that crime had not been committed Y would not have existed, it argues.
Its case, put forward by Ben Collins QC, is that harm caused before birth which has consequences after birth cannot be treated as an injury to a living person, as the Court of Appeal ruled in the litigation concerning children born with foetal alcohol syndrome.
'Landmark ruling'
Solicitor Malcolm Johnson, who represented Y, said: "This judgment is a landmark ruling for people such as my client, who previously were given no hope of receiving any compensation despite their often severe and debilitating conditions.
"The law on this type of case was thought to be settled - that is to say that a person bringing a claim to the CICA for genetic disorders caused by incestuous relationships would not be successful. This significant judgment of Judge Levenson now establishes that such a claim can be made.
"We are delighted to have achieved this result for our client, which effectively opens the door for people who have suffered genetic health problems as the result of a criminal act to seek compensation."