Coastguard rescues suspected migrants off Kent coast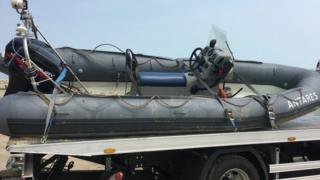 Eighteen Albanians, who are believed to be migrants, are among 20 people to have been rescued from a boat off the Kent coast in the English Channel.
The BBC has been told some of the passengers phoned relatives in Calais to say they were in trouble after their boat started taking in water overnight.
French authorities were then alerted and contacted the UK coastguard.
Border Force officials are interviewing all 20, including two Britons. A woman and two children are among them.
The UK coastguard said it was called just before midnight on Saturday to an incident off the coastal village of Dymchurch.
A helicopter from nearby Lydd and two lifeboats with coastguard rescue teams from Dungeness and Folkestone began the search.
About two hours later, at 02:00 BST, a rigid-hulled inflatable boat, known as a rhib, with 20 people on board was found.
Border Force staff later removed another boat from the beach at Dymchurch as part of their investigation. Officials believe it may have been part of a wider operation.
Dymchurch resident Tomi Ball Bartholomeou said he had seen the rescue operation taking place.
"All of a sudden this huge helicopter has come down and basically is on the beach. So we ran up there as fast as we could and all of a sudden like 50 police officers have come down out of nowhere, and you could see this massive raft just crashed on the floor."
Parish councillor Roger Wilkins said: "I believe that there are people that are being paid to bring these people across from France. The coastguards and everybody now has got to be more vigilant, the people of Dymchurch will have to be more vigilant, if they see something suspicious or something that they are not happy [about] they must, obviously, get in contact with the police."
After being rescued, the group were handed over to the UK Border Force and taken to Dover.
An immigration spokesman for the Home Office said they were currently being interviewed by Border Force officers.
A Coastguard statement said: "A call was received at 11.40pm yesterday requesting assistance to the RHIB, which was taking on water.
"The RHIB... was located at 2am and the incident handed over to UK Border Force."
The incident comes after 17 men, thought to be Albanian migrants, were detained after a catamaran arrived at Chichester Marina in West Sussex on Tuesday, along with a 55-year-old British man wanted on suspicion of murder in Spain.
The Briton, who was the subject of a European Arrest Warrant, was detained on suspicion of facilitating illegal immigration and the 17 men were held on suspicion of entering the UK illegally.
Also last month, two Iranian men were found floating in a dinghy in the English Channel.