'Lack of evidence' to prosecute Lord Janner in Scotland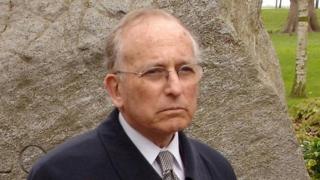 There was insufficient evidence to justify the prosecution of the late Labour peer Lord Janner who died facing a sexual abuse allegation in Scotland, the Scottish Crown Office says.
It was revealed last year that police were investigating a man's claim that Lord Janner abused him as a child on a trip to Scotland in 1975.
Inquiries were halted after his death in December. Police had not submitted a formal case file to prosecutors.
His family denies the allegation.
Based on a note of the material gathered by police, the Crown Office decided there would have been "insufficient evidence" for criminal proceedings.
Scottish law requires two sources of corroboration before a conviction is possible. The Crown Office makes the decision whether to charge.
A Crown Office spokesman said: "The Procurator Fiscal received information from Police Scotland relating to an allegation against Lord Janner concerning sexual assault.
Accused deceased
"There is insufficient evidence in this case due to a lack of corroboration.
"Furthermore, the law does not allow us to indict an accused who is deceased, therefore there will be no criminal proceedings."
Lord Janner has been accused of sexually abusing at least 30 children between 1955 and 1988. His family denies all the allegations against him.
The BBC understands the allegation in Scotland relates to a business trip Lord Janner made in 1975 with a teenager from a Leicestershire children's home whom he had befriended.
In 1991 the MP was accused by the boy, who gave statements to Leicestershire Police and police in Scotland, claiming he had been abused in different locations around the UK.
Lord Janner, a veteran MP in Leicestershire, told the 1992 Kirkwood Inquiry into child abuse within the county of the anguish caused to him and his wife by "the false allegations made against me".
He told the inquiry he had taken the teenager on a business trip to Scotland in 1975 to give him the opportunity of a travel experience.
He said: "My family and I have suffered profoundly through our efforts to help him."
Dementia
However, according to a prosecution review of the case, a Leicestershire Police investigation, which began in 2013, gathered evidence from 32 witnesses supporting the claims.
The evidence was included in a file passed to the Crown Prosecution Service in England and Wales, which decided there was a case for charging Lord Janner with sexual offences.
A judge later decided he was not fit to stand trial, because of his worsening dementia.
Lord Janner died before he could face a so-called "trial of the facts", in which a jury would have been asked to decide - without reaching a decision about guilt - whether abuse alleged by nine complainants had taken place.
In January, a report for the CPS concluded that Lord Janner should have been prosecuted three times in the 1990s and 2000s.
The Goddard Inquiry into child sexual abuse will investigate the Lord Janner case, with public hearings expected to begin in autumn 2016. A report is likely to be published next year.