Staff 'told not to take action against probation breaches'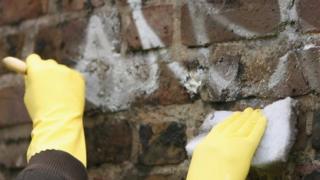 Probation officers are being told not to take action against offenders who breach sentence terms, because their companies risk being fined, a watchdog in England and Wales has said.
Since 2015, private probation groups have received payments linked to offenders meeting sentence conditions.
But this may have deterred staff from taking action against people breaching community orders, inspectors found.
The government said it was addressing issues raised in the report.
Government changes have seen the probation service split in two, with community rehabilitation companies (CRCs) supervising low and medium-risk offenders and a new National Probation Service (NPS) taking over the supervision of high-risk offenders.
CRCs were transferred from public to private ownership on 1 February 2015.
'Discourage' community orders
Under the system, payments to CRCs are linked to offenders complying with the terms of their sentence and not committing further crimes.
But the Inspectorate of Probation found a number of probation officers at CRCs said they had been told by bosses not to recommend to the courts that an offender's community sentence be revoked because their company would incur a financial penalty.
One officer said their organisation's approach was to "discourage" enforcing community orders or the conditions of a prisoner released on licence.
Community orders are sentences imposed by courts in place of jail terms. They can include rehabilitation activities, unpaid work and drug or alcohol treatment.
Offenders who fail to comply with community orders can have the terms of their orders amended to be more onerous and can even face prison sentences for repeated breaches.
The report also found that more than two-thirds of offenders released from prison had not received enough help from the CRC before release in relation to accommodation, employment or finances.
In some areas a shortage of probation officers meant that CRC agency staff were allocated medium-risk-of-harm cases, for which they felt insufficiently trained.
The report, which related to inspections undertaken from October 2015 to February 2016, found the NPS and CRCs were now working better together but that "significant problems remain".
Advice given to courts was less reliable in some cases, but the report also said the work the NPS did with many high-risk offenders was good and included effective joint working with specialists.
Dame Glenys Stacey, chief inspector of probation, said CRCs needed to do more work to prepare prisoners for release.
She added: "Without sufficient preparation, those released are more likely to offend again and so find themselves back inside."