Chelsea Flower Show: Geological garden takes top prize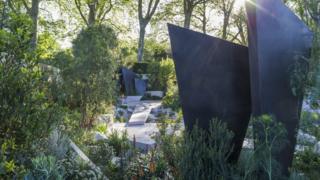 A garden inspired by geological events that have shaped the earth has won the top prize at the Chelsea Flower Show.
The Telegraph Garden, designed by Andy Sturgeon and sponsored by the Daily Telegraph, features bronze fins which represent an ancient mountain range.
It highlights the need to futureproof gardens against a changing climate.
Mr Sturgeon - who has now won two Best In Show awards at Chelsea - said the key to his success was the way he had "collected the plants together".
He said: "Whatever your planting style, whether it's a woodland or a semi-arid landscape like I've created, if you're choosing plants that grow in those places in their natural habitats and you put them all together, you know it's going to look right but they're also going to thrive together.
"I think that's something that anyone can take and use in their garden no matter how big or small."
Bookmaker William Hill said it had suspended betting on the award because 100% of the wagers were placed on Mr Sturgeon's garden winning.
It had been initially installed as the 2/1 favourite for the award and attracted bets of up to £200 before the market was suspended.
"It appears that gardening is not one of our areas of expertise, we have clearly underestimated the Andy Sturgeon-designed garden which our green-fingered clients think is a certainty," said spokesman Rupert Adams before the announcement was made.
Maths, medicine and 'madness' at Chelsea
The Chelsea Flower Show, organised by the Royal Horticultural Society, is widely regarded as the world's most prestigious flower show and continues until this Saturday
The Queen and other members of the Royal Family, including the Duke and Duchess of Cambridge and Prince Harry, visited on Monday.
Many of the exhibits mark the Queen's 90th birthday, including a 21ft floral arch of at least 10,000 blooms and an exhibition of royal photographs at Chelsea dating back to 1949.