Wild animals at UK homes include lions, zebras and crocodiles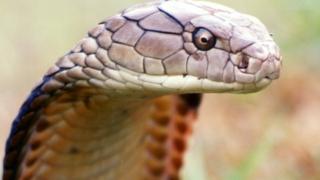 Wild animals including lions, tigers, crocodiles, rattlesnakes and zebras are being kept legally on private property across the UK, figures have revealed.
More than 100 councils have issued licences to people who keep undomesticated animals at home, a freedom of information request by the Press Association news agency found.
It also showed more than 300 cobras, vipers and rattlesnakes are being kept.
Animal welfare experts have expressed concern at the findings.
---
Animals in the UK
The FOI found:
Licences for pumas, lynxes, ocelots, lemurs, vipers, ostriches and an assortment of wild cats have been issued in Cornwall
Wolves, alligators, caiman crocodiles, black widow spiders, venomous snakes and short-clawed otters are being kept in Central Bedfordshire
Cannock Chase Council has issued licences for three tigers and two lions
Among the most popular dangerous pets are lemurs, a small primate, 115 of which are kept in domestic settings
15 wolves are registered at UK addresses
412 bison and more than 2,000 wild boar live in private fields in the UK, along with a score of zebras
---
Dangerous wild animals licences are required to keep animals that are considered to be wild, dangerous or exotic.
These are granted by councils, provided requisite safety measures at the owner's home are met and a fee is paid.
Licences are also issued to properties where animals may be receiving care after being rescued, or living at small private farms, where people keep wild beasts for breeding purposes.
Iain Newby, who runs a wild animal rescue facility from his home in Little Wakering, Essex, told BBC Radio 5 live: "I can understand people's fascination with a lot of these animals, I keep servals myself - African cats.
"A lot of these animals I do believe should never be pets, they should be - if they are rare or if they are endangered - in proper breeding groups to keep the populations.
"But there are certain animals that are kept as pets, have been kept as pets for a long time, are bred in captivity, such as the servals."
---
There once was a sidewinder from Swale...
The Fishing Cat (top left) - Fishing cats, which are native to parts of South and South-East Asia, have developed webbed feet and live a semi-aquatic lifestyle. They prey primarily on fish rather than small mammals. West Suffolk councils and Wyre council have issued licences for this animal.
The Sidewinder (top right) - The sidewinder is a small species of rattlesnake which gets its name from the way it moves. The venomous snake, which lives in the deserts of south-western US and Mexico, is nocturnal and preys on rodents, lizards and small birds. It can be found at homes in Bolsover, Broxtowe, Swale and Central Bedfordshire.
Gila Monsters (bottom right) - The gila monster is a venomous lizard native to the US - or at homes in Central Bedfordshire, North Kesteven, North Lanarkshire, Stevenage, Walsall and Winchester councils, and Northern Ireland.
Caiman Crocodile (bottom left) - Caiman crocodiles, which are small crocodilians found in Central and South America, can grow to 15ft (4.5m) The BBC spoke to the owner of a caiman called Caesar in 2013. There are UK owners in North Lanarkshire, Stoke-on-Trent, Central Bedfordshire and West Dorset.
Wild Ass (top left) - The African wild ass is listed as "critically endangered" by the International Union for Conservation of Nature and the Asiatic wild ass is "near threatened". North Somerset Council has issued a licence for a Somali wild ass.
Black Mamba (top right) - The predator, which uses neurotoxins to paralyse and kill small animals, is one of the fastest and most dangerous snakes in Africa. UK owners can be found in the Vale of White Horse and in Sefton.
Przewalski's Horse (bottom right) - The wild horse is listed as "endangered" by the International Union for Conservation of Nature. They had been listed as extinct in the wild in 1996, but can now be found in north-west China. There is a UK owner in North Somerset.
Camels (bottom left) - Several councils have issued licences for camels, but Scarborough and Stafford have the highest number at six each.
---
The figures supplied by the councils only collate details of animals being kept legally with a licence, but not any that are being kept without the proper authorisation.
Mr Newby said that although the FoI revealed more than 300 venomous snakes were being kept across the country, he said he knew "four or five different people that have more than 300 venomous snakes themselves".
He said some people keep them because they have rescued them and are in a position to look after them properly, while others keep them to help hospitals with anti-venom work.
An RSPCA spokeswoman said the charity was "deeply concerned" about the figures.
"People may buy them with little idea of how difficult they can be to keep and the animals are sometimes neglected when the novelty wears off and the commitment hits home.
"This is why we would encourage anyone thinking of getting an exotic pet to find out as much as possible about the animal's needs and whether they're a realistic pet."
The FoI request was sent to every council in the UK, of which 363 replied.
In Northern Ireland, the Environment Agency provided the figures for the whole country.
---