Daily Mail owners fined £40,000 over 'Nick' picture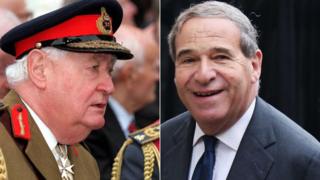 The Daily Mail's owners have been fined £40,000 for wrongly publishing a picture and details of a man alleging VIPs had sexually abused children.
Associated Newspapers admitted two breaches of the Sexual Offences Act.
It follows the Mail's coverage of a police inquiry into claims by a man known as "Nick" against MPs and senior military and law enforcement figures.
The paper only partially pixelated a picture of "Nick" and published details which may have made him identifiable.
The media is prohibited from identifying anyone who has made an allegation of a sexual offence to the police under the Sexual Offences Act.
The Mail has also been ordered to pay "Nick" £2,000 in compensation.
Who is "Nick" and how did his claims spark a major child abuse inquiry?
The newspaper said it had been told by the sentencing magistrate she was concerned about the damage to public confidence that complainants' identities would be protected.
However, Associated Newspapers argued in court the information had not been published to identify "Nick" but to enable the public to understand the context of the claims he was making.
Articles containing "Nick's" details, published last year, asked whether he was a "victim or a fantasist" and criticised Operation Midland - the Met Police inquiry into claims a group of prominent figures abused children in the 1970s and 1980s - for the way in which it investigated his claims.
'Extraordinary irony'
In a statement published by the Daily Mail, Associated Newspapers said: "We believe emphatically in the rule of law, and regret on this occasion we judged incorrectly where the line should be drawn.
"This prosecution follows the closure of Operation Midland, which was robustly criticised by the Daily Mail and MailOnline.
"It is an extraordinary irony that the only conviction to result from this sorry episode, which caused such pain to Lord Brittan and his widow, and to Lord Bramall and his late wife, is against a media organisation which reported it with the objectivity so lacking in police inquiries."
The controversial 16-month Operation Midland inquiry ended in March without any charges being brought.
Among others, "Nick" had accused former home secretary Lord Brittan and General Lord Bramall, a former commander in chief of UK land forces.
Lord Bramall was cleared in January this year. Police said they had found insufficient evidence even to justify passing the case to prosecutors.
Lord Brittan died last year unaware that an investigation into a rape claim against him, which he denied, had been dropped. His widow accepted a "full apology" from the Met.
The Met said it had been right to look into the single source claims.