Sophie, Countess of Wessex, in Duke of Edinburgh's Award cycle challenge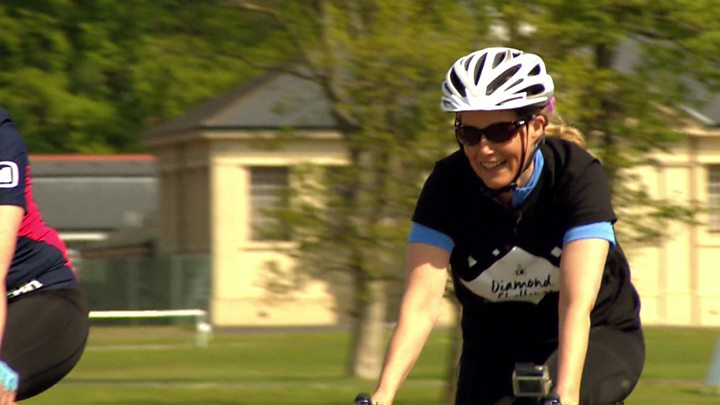 The Countess of Wessex is to cycle from Edinburgh to London to mark the 60th anniversary of the Duke of Edinburgh's Award.
Sophie will ride 445 miles from the Palace of Holyrood to Buckingham Palace over seven days in September as part of the Diamond Challenge.
The initiative encourages participants to try something new to raise awareness and money for the award scheme.
She said she was "both excited and apprehensive" by the prospect.
The countess will accompanied on the route by a small team of service personnel representing four of her military affiliations - RAF Wittering, 5th Battalion The Rifles, Queen Alexandra's Royal Army Nursing Corps, and the Corps of Army Music.
She has been training at Royal Military Academy Sandhurst.
In comments posted on the British monarchy's website, the countess wrote: "Cycling is something I only tend to do with my children and never for more than the odd hour.
"It is something I've always found to be one of the more testing forms of exercise physically and mentally, so cycling it had to be!
"I am now training hard and trying to get to grips with the kit, the fitness level, the seat(!), the aching shoulders, wrists and backside, the terrifying roads, the hills and worst of all the cleats!
"Yes, I have fallen off several times, but the bruises are fading and each time out gets a little better."
'Self belief'
The Duke of Edinburgh's Award, set up by Sophie's father-in-law in 1956, has become one of the best known self-development schemes for 14 to 24-year-olds.
About 2.5m UK participants have achieved awards since its inception, and an international scheme operates in more than 140 countries and territories across the world.
Sophie's husband, the Earl of Wessex, is a trustee, and as part of the anniversary commemorations is this year travelling across the UK to meet participants and volunteers.
Speaking to BBC Breakfast, the countess said the award has retained its relevance over the years.
"There's a lot of issues out there... to take young people and give them experiences they never thought they could do gives them a sense of real achievement."
On the British monarchy's website, the countess said the award had an "incredible impact" and provides participants with "self-belief and motivation whatever their background or ability".
She added: "Some months ago I was asked by the award to take up a challenge in celebration of this incredible milestone.
"The funds being raised by me as well as many others all over the country will give thousands more young people in the UK the opportunity to experience the life-changing opportunities the award offers."