Sun hacking claims can go ahead, judge rules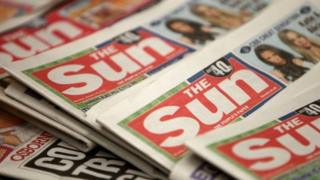 Claims against the Sun newspaper by phone-hacking victims can go ahead, a High Court judge has ruled.
News Group Newspapers (NGN), which has previously settled a large number of cases brought against the now-defunct News of the World, has always said there was no hacking activity at its sister tabloid.
But on Thursday in London, Mr Justice Mann allowed the claims to proceed.
More than 1,000 phone hacking claims have been settled by NGN - now News UK.
The judge said four claimants could amend their cases to include the daily newspaper for the first time in the proceedings against NGN.
Two of those claims are among a number scheduled for a trial in July.
Chris Hutchings, one of the lead solicitors for those claiming their private voicemail messages were hacked, said: "Today's ruling brings the Sun squarely into the civil litigation being brought against News Group."
"The court has now allowed claimants, for the first time, to include claims of phone hacking by the newspaper.
"The decision will also affect up to 50 further cases which are about to be commenced against the Defendant and will widen the disclosure of documentation it will have to provide going forward."
One of the new claims in the third round of the long-running litigation - which includes the Sun - has been brought by Simon Clegg, the former chief executive of the British Olympic Association.
Others now suing NGN include EastEnders actors Christopher Parker and Brooke Kinsella, Coronation Street actor Kym Marsh, designer Pearl Lowe and her musician husband Danny Goffey and Leslie Heseltine, who is better known as actor and comedian Les Dennis.
Former News of the World editor Andy Coulson was found guilty of conspiracy to hack phones while his predecessor Rebekah Brooks was cleared of all charges.
Four other defendants were cleared along with Mrs Brooks.
In September Mrs Brooks returned to her role as chief executive of News UK.
She had resigned the same role in 2011 in the wake of the phone-hacking scandal and was given a £16m payoff by the newspaper group.
Royals, celebrities and victims of crime were among those whose phones were hacked by the News of the World.
The paper was closed in July 2011 after it emerged that it had instructed a private investigator to intercept - or "hack" - voicemails left on the mobile phone of murdered Surrey teenager Milly Dowler in 2002.