Queen at 90: How Elizabeth II is portrayed on stage and screen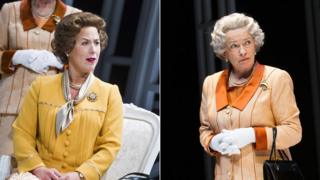 As she celebrates her 90th birthday, the image of the Queen on stage and screen is more prevalent than ever. But what is it like to play one of the most famous faces in the world - and what makes so many want to do so?
Playing the Queen could be daunting for many actresses. But two who have done exactly that on stage say there is one crucial element for getting into character - the wig.
Emma Handy played Liz - the 1980s version of the Queen - in the recent touring production of Moira Buffini play Handbagged, which imagines older and younger versions of the Queen and Margaret Thatcher in conversation during their weekly audience.
"The wig and make-up and clothes do so much," she says. "It's extraordinary."
But, adds Handy: "She seems to have two faces - the public and the private face. There is very little footage of her private life, but she is known to be enormously mischievous - and these are things I have in common with her."
One thing Handy was adamant about was not doing an impersonation of the Queen - instead she focused on capturing her "essence". She says she found sitting "incredibly straight-backed" helped.
"She's probably the most photographed person in the world, so everyone has an idea of her," says Handy.
"Every year you see the Christmas broadcast, but that's not who she is. There is a massive side of her people don't know."
Marion Bailey, who played Q - the older Queen - in the West End production, says: "It is irresistible to play the Queen. When I was cast, I mentioned it to a few people and someone said I didn't look anything like the Queen.
"And I replied: 'Oh, but I do,'". I've often sat in make-up chairs and had my hair in a particular way, looked in the mirror and thought: 'You know what? I could do the Queen,'."
'Is that the Queen?'
In preparation for the London run of the play, initially at the Tricycle Theatre before transferring to the Vaudeville Theatre, she says she watched all the Queen's Christmas messages - as well as anything else she could find online.
And the reaction was everything she could have hoped for.
"Some nights I would walk out and there would be gasps," she says. "It was to do with the look of it and the history, and I tried to get as many of the mannerisms as I could. On the West End transfer, I heard an American tourist whisper: 'Is that the Queen?'."
---
Queen of popular culture
Peter Morgan's 2006 film The Queen featured Helen Mirren as the Queen and Michael Sheen as Tony Blair and focused on the reaction to the death of Diana, Princess of Wales
The Audience, also written by Morgan, starred Mirren on its West End and Broadway runs, with the role also being played by Kristin Scott Thomas on the London stage
Channel 4's The Queen featured five actresses, including Emilia Fox and Samantha Bond, playing the Queen at different stages in her life
The Crown, starring Claire Foy and Matt Smith as the Duke of Edinburgh, is a Netflix series due to be released in November, covering six decades of the Queen's life. Again, it is written by Morgan
Songs written about the Queen include Her Majesty by The Beatles and God Save the Queen by the Sex Pistols
Alan Bennett has twice written about the Queen - his book The Uncommon Reader sees the monarch's life changed by a mobile library, while play A Question of Attribution includes a scene where the Queen and spy Anthony Blunt are in conversation
Queen lookalike Jeannette Charles made a career out of impersonating the monarch and even turned her hand to acting in several films including The Naked Gun in 1988 with Leslie Nielsen, and Austin Powers in Goldmember with Mike Myers and Michael Caine.
---
Prof Philip Murphy, director of the Institute of Commonwealth Studies at the University of London, says the closest the public ever got to seeing the real Queen was in the 1969 documentary Royal Family.
But Prof Murphy says: "The Royal Family effectively suppressed it. They decided it reduced the mystique around them.
"In a way, that creates a carte blanche for writers and satirists to make up personalities."
'Mixing fact and fiction'
He adds: "That's the problem the Royal Family has - they want to appear human but they also want to appear somehow removed and keep this dignified distance."
One issue with writing about the Queen is that "fact and fiction gets mixed up", he says.
"The public have very little sense of what actually goes on. But a plausible fictional representation can almost seep into historical record."
Portrayals of the Queen have not always been the most flattering, he notes.
"Spitting Image was an attack on British deference around authority figures - and there were no more esteemed than the Royal Family," says the professor.
One of the lead writers of that series was author John O'Farrell, who says: "If you cast your mind back to the 1980s, there was an enormous reverential style. It was seen as poor form to laugh at the Queen's expense... But what we did was show her to be an ordinary person in an ordinary family, which is where it struck a comic nerve," he says.
'Complete blank sheet'
He adds: "The tabloids faked outrage, but people loved it... At times it was crude and disrespectful - but I think that's warranted."
Alison Jackson is someone else whose work has attracted controversy. Her apparently candid photographs of celebrities in private moments are created with the help of carefully-chosen lookalikes.
Thanks to Jackson, we see "the Queen" putting out dog food for her corgis, taking a selfie and doing the washing-up.
"I thought it would be really good to get her doing normal things," says Jackson.
"She is a person, after all. And she does do normal things - she reads, she drives a Land Rover, she gets her hands dirty - she's quite tomboyish, really. She's not a diva and seems to come across as a normal woman, even though of course she's not."
Jackson says one photograph seems to be seen as going too far, however.
"My photograph of the Queen on the loo is my least published. I don't think it's been seen in any newspaper in England, whereas a lot of other works get published all the time," she says.
"People think breaking that taboo is tasteless, which I find interesting. But it's designed to be thought-provoking, rather than controversial."
Thought provoking as they may be, perhaps fictional representations get us no closer to who the Queen actually is - barring of course the only time she has played herself, acting alongside Daniel Craig in a James Bond sketch for the London Olympics opening ceremony in 2012.
But that certainly isn't going to stop people from continuing to try to capture the essence of this elusive, yet ever-present, figure.