Three arrests over death of British teacher in China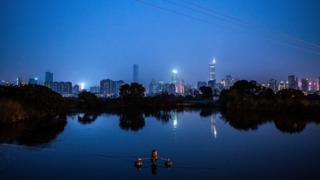 Three people have been arrested on suspicion of killing a British university academic in China, police have said.
Hilary St John Bower, 60, was an English teacher at Hong Kong Polytechnic University, but was found dead on the Chinese mainland.
One of those detained is described as a girlfriend of Mr Bower, with whom he had been living for 17 years.
The police said he had been killed following an "emotional dispute".
Two accomplices
The statement from police in the Chinese city of Shenzhen, where Mr Bower had lived, said he was killed after a dispute with his long-term girlfriend - a 38-year-old woman with the surname Xu, from China's Hubei province.
She has been arrested alongside two accomplices, the police said.
The English language teacher had worked at Hong Kong Polytechnic University since 1996.
Friends of Mr Bower have been quoted as saying that he was in the process of selling an apartment in China.
Mr Bower was reported missing to Hong Kong police on 30 March, police previously said.
When investigators discovered he had travelled between the city and mainland China they contacted authorities there.
Investigators on the mainland have told police in Hong Kong that Mr Bower was killed on the night he went missing.
The UK Foreign Office said it was providing support to his family.