Tata Steel: David Cameron raises concerns with Xi Jinping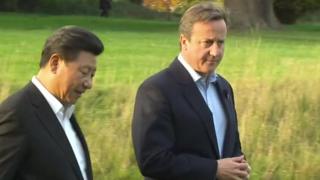 David Cameron has raised his concerns about the steel crisis with Chinese President Xi Jinping, Number 10 says.
During a Washington dinner on Thursday, Mr Cameron said they needed to work together to tackle "over-capacity".
It comes as China, which has been accused of hurting the UK's industry by "dumping" cheap steel, announced import tariffs of up to 46% on some EU steel.
The government said the duties would not impact UK exports, but Labour said ministers were on the back foot.
Tata said the particular type of steel affected by the tariff had not been exported "in recent times from our UK operations", but it was concerned about the wider impact on the market.
'No guarantees'
The two leaders met at the White House during the Nuclear Security Summit in Washington.
The prime minister has said every effort is being made to save thousands of jobs after Tata Steel's decision to sell its loss-making UK plants - but he also warned there were "no guarantees of success".
Tata Steel UK: What are the options?
What's going wrong with Britain's steel industry?
What next for Tata Steel workers?
Tata's UK business - which directly employs 15,000 workers and supports thousands of others - includes plants in Port Talbot, Rotherham, Corby and Shotton.
Unions and opposition parties say the government is in "chaos", and want action to save the threatened plants.
The prime minister's spokeswoman said Mr Cameron "raised concerns about the global steel industry" with President Xi, and said the G20 in China in September could be a good forum to address the issue.
Both the government and the unions are blaming cheap Chinese imports for causing problems in the UK.
In 2013, the UK produced 13 million tonnes of steel while China produced 779 million tonnes. Chinese exports have also soared. In 2003, the country exported 7.2 million tonnes rising to 107 million tonnes in 2015.
The country has been accused of dumping - selling steel very cheaply and regularly at a loss, with UK executives warning for months that the flood of steel was placing unsustainable pressure on the industry.
Meanwhile, the Chinese ministry of commerce said imports of grain-oriented flat-rolled electrical steel - a type of high-tech steel made by Tata's Cogent subsidiary in Newport - will be charged duties ranging from 14.5% to 46.3%.
The US has imposed tariffs of 266% on Chinese steel but Britain blocked efforts at EU level to impose similarly high emergency tariffs.
Ministers said they opposed the changes because they could have affected industries other than steel and did impose higher tariffs on some specific Chinese products such as reinforced steel.
'Unwelcome'
A spokesman for UK Steel, the industry's trade association, said exports of this type of steel to China were about 1,000 tonnes per year in 2011, 2012 and 2013. This fell in 2014 to 590 tonnes and again in 2015 to 332 tonnes, it said.
The Department for Business, Skills and Innovation said the duties were "clearly unwelcome", but were "not expected to have much impact".
However, Tata said it was concerned about the disparity between the EU's low tariffs and high tariffs set by other countries, and the knock on effect on other countries looking for alternative markets for their products.
---
Analysis
BBC business correspondent Joe Lynam
In the early 2000s, China was soaking up all the world's steel and iron ore to build its new cities, and created numerous steel production facilities in their industrial towns. Soon they were making more in one factory in a year, for example, than the entire British steel industry.
But when their construction boom waned, they had too much steel. They couldn't sell it locally and had to dump it overseas at a cut price. And you cannot compete with dumped steel.
In the future, the UK wants to focus on the production of expensive, specialist steel - but that is the very stuff now facing tariffs of up to 46% in China.
The other difficulty for the UK is that it wants to be one of China's major trade partners in the future.
For example, the government wants the Chinese to pay for a third of the Hinkley Point nuclear power station in Somerset, which is under way but hasn't got the final green light yet.
But to get that long term relationship, the UK might need to look away from certain Chinese trade practices.
---
Labour's deputy leader Tom Watson told the BBC the government had been "on the back foot", and should have changed procurement rules to ensure a role for British steel in big projects such as HS2.
He said Business Secretary Sajid Javid seemed "harnessed to his ideology" and unable to see a role for temporary state intervention.
Plaid Cymru leader Leanne Wood called the latest news about China imposing tariffs a "joke".
Steel production makes up 1% of Britain's manufacturing output and 0.1% of the country's economic output.