Jury out in 'drive-by terror plot' trial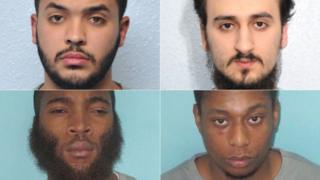 The jury have gone out in the trial of four men accused of plotting a drive-by shooting in London, inspired by so-called Islamic State.
Tarik Hassane, Suhaib Majeed, Nyall Hamlett and Nathan Cuffy all faced charges of conspiracy to murder and preparation of terrorist acts.
Medical student Hassane pleaded guilty during the Old Bailey trial, so jurors are considering verdicts on the others.
The alleged plot was possibly going to be carried out on a moped.
Mr Hamlett and Mr Cuffy have already pleaded guilty to supplying a Baikal self-loading pistol to Mr Majeed - a gun he admits he received, but which he denies knowing was intended for a terrorist murder.
The jury are considering one additional charge against Mr Majeed: whether or not he had possessed a firearm with intent to endanger life.