Former X Factor hopeful guilty of laundering phone scam cash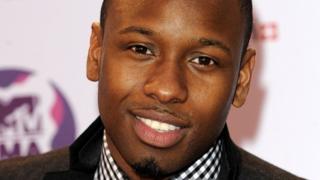 A former X Factor contestant has been found guilty of laundering £20,000 from a phone scam that defrauded 18 pensioners across southern England.
Nathan Fagan-Gayle, 29, received the money in his bank account from a 73-year-old woman who was duped by conmen posing on the phone as police officers.
The east London singer spent £15,000 on designer clothes, shoes and car hire in the US, an Old Bailey jury was told.
He claimed he thought the money was for a booking for a performance in Dubai.
Fagan-Gayle, known as Starboy Nathan, will be sentenced with a number of other men who have previously been convicted for their part in the wider £600,000 fraud.
After their trial in December, the Metropolitan Police said the fraud was uncovered after an investigation found payments in a bank account used by someone who later travelled to Syria.
'Trying to be romantic'
At the Old Bailey, prosecutor Kevin Dent said Fagan-Gayle filtered £5,000 of the £20,000 into his mother's and girlfriend's accounts to give the impression of "fresh money".
Fagan-Gayle told the court he gave a friend money to look after for a trip to America, paid off a debt on a Mercedes lease and gave his girlfriend money as a "romantic" gesture.
"I wanted to show off a bit," he said. "Show her I am doing it for myself. Send her some money.
"At the time I was like: 'What's mine is yours, innit'. I was just trying to be romantic."
Live shows
At 17, Fagan-Gayle signed up to Richard Branson's V2 and later toured with JLS, The Wanted and N-Dubz.
In 2008, he appeared on Celebrity Big Brother. Four years later, he auditioned on the X Factor but failed to make it through to the live shows.
In a statement read in court, Paul Henderson, from Seven Stars talent agency, said he dealt with Fagan-Gayle on quite a few bookings for between £800 and £2,000 per appearance, but he had not had any "serious bookings requests" since May 2013.
The previous trial heard how victims in their 70s, 80s and 90s from Cornwall, Devon, Dorset, Bedfordshire, London and Kent were phoned by men posing as police officers, supposedly investigating a fraud at the person's bank.
They were advised to transfer money or hand it over for "safekeeping".
In May 2014, Elizabeth Curtis, 73, was persuaded to transfer about £130,000 to different accounts, including Nathan Fagan-Gayle's.
In December, Mohamed Dahir, 23, Sakaria Aden, 22, and Yasser Abukar, 24, all from north London, were found guilty of conspiring to commit fraud in relation to the phone scam.
Mohammed Sharif Abokar, 28, also from north London, was convicted of converting criminal property.
Six more defendants have pleaded guilty to their part in the fraud - either as conspirators or money launderers.