Man 'regarded British jihadi killed in drone strike as a hero'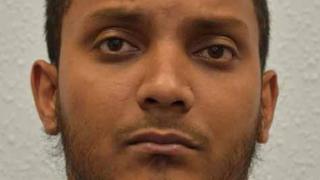 An alleged Islamic extremist regarded a British jihadi killed in a drone strike in Syria as a "hero", a court has heard.
Junead Khan, 25, from Luton, is said to have planned to fight for the Islamic State group (IS) abroad before deciding to prepare terrorist acts in the UK.
Prosecutors said he had shared images linked to IS on WhatsApp.
Mr Khan denies making preparations for attacking military personnel in the UK between May 10 and July 14, 2015.
Mr Khan, a delivery driver, shared an article, headlined "Exclusive: West can't defeat IS", which included an interview with the jihadi Abu Rahin Aziz, also known as Abu Abdullah al-Britani, Kingston Crown Court heard.
'Defending the innocent'
Prosecutor Max Hill QC told Mr Khan: "You knew exactly what it was because you wrote 'article in mainstream magazine about Abu Rahin Aziz' - someone who is, or was, a hero to you.
"When his death by drone strike was announced in early July last year... you regarded him as a hero," he added.
Mr Khan told jurors he knew Aziz from the Luton community, and he knew he had travelled to Syria to fight for IS.
He denied he wanted to follow him to Syria, but said Aziz was a "hero in the sense that he was fighting and defending innocent civilians".
'Peaceful agreement'
During cross-examination, Mr Khan said that as a Briton living in this country he was bound to follow the "peaceful agreement" and Islam did not allow him to "attack the people of the country that I am living in".
However, he added that he supported the establishment of an Islamic state.
"I support the shariah and caliphate. I wish to live under a shariah and caliphate, but I do not wish to become a fighter myself," Mr Khan told jurors.
He is on trial alongside his uncle, Shazib Khan, 23, also from Luton.
They are jointly charged with making preparations for travelling to Syria to fight IS.
They both deny engaging in conduct in preparation of terrorist acts on 1 August 2014 and 15 July 2015.
The trial continues.