Vietnam waterfall deaths: Three Britons killed at Datanla site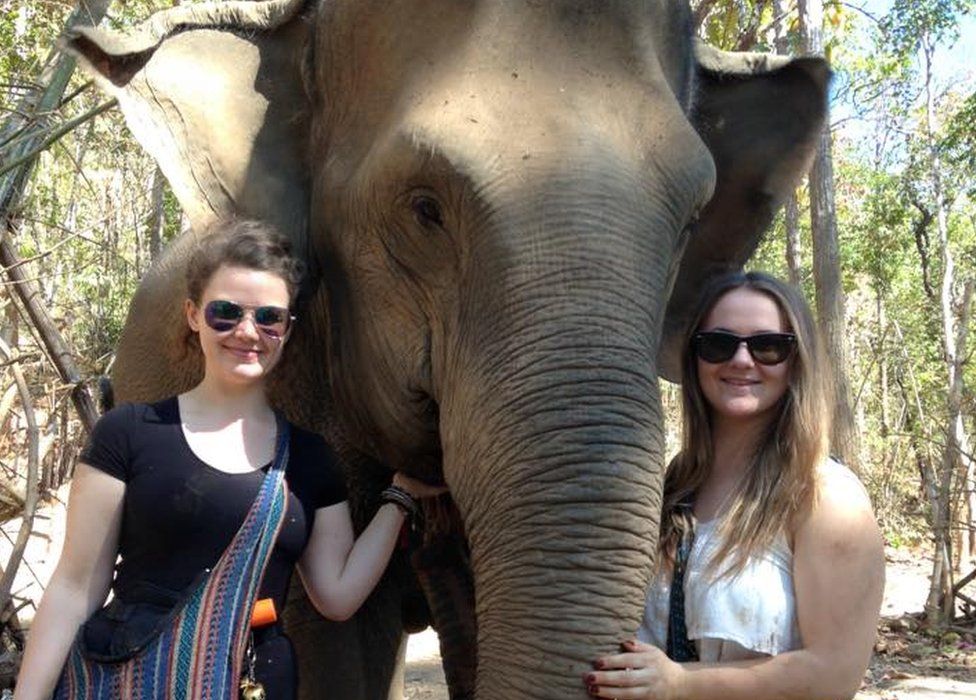 Three British tourists have been found dead near waterfalls in Vietnam.
One of the group has been named as Christian Sloan, from Kent, who was described by his family as a popular man who "lived for life".
Two women aged 19 and 25, named in reports as half-sisters Izzy Squire and Beth Anderson, were also found near the Datanla falls, Lam Dong province.
Early investigations suggest one of the group slipped while exploring the falls and inadvertently took the others down.
Police have questioned a local man, but he has not been detained.
Mr Sloan's family said: "Christian's death is a very sad loss to us.
"He was a very popular young man, formerly in the Royal Navy, who had many, many friends not just locally but around the world."
James McGlashan, who was travelling with Mr Sloan at the time, wrote on Facebook to say he was on his way to Ho Chi Minh City and thanked people for the messages that had been flooding in.
"Thank you for all your support. Devastated RIP Sloan."
Nguyen Van Yen, deputy chairman of Lam Dong province, who was in charge of the operation to recover the bodies, told the BBC: "When we found the bodies, we found their helmets and safety jackets but no ropes.
"According to our initial investigation, after visiting the Datanla waterfalls, they went to the forest to another area for canyoning.
"On their way, they passed through a stream which flowed into a waterfall. Unfortunately a person slipped, taking the other two with them."
The man who was with them was questioned by police but has not been detained, he said.
Their bodies are being moved from from Lam Dong province to Ho Chi Minh City.
According to local reports, emergency workers had to climb down a steep slope to recover the bodies.
The deputy director of the tourist company which manages the falls, Vo Anh Tan, said visitors usually started at the top of the tiered waterfalls and climbed down.
James McGlashan's father, Alan, from Deal in Kent, said his son had not gone on the tour because he had been ill and later had to identify the bodies at the hotel he had been staying in.
He said the trip had been booked through the hotel with a tour company that had had excellent reviews.
Simon Calder, travel editor at the Independent, told the BBC the area was extraordinarily popular on the backpacker trail, offering opportunities for canyoning, white water rafting and to climb or descend the waterfalls.
The BBC's South East Asia correspondent Jonathan Head said the number of international visitors to Vietnam had risen rapidly in just a few years - and this would raise safety concerns.
"As in much of the rest of South East Asia, law enforcement in Vietnam is weak, and a culture of accident prevention is almost non-existent," he said.
The UK Foreign Office said: "We are providing support to the families of three British nationals following their deaths near Da Lat, Vietnam.
"Our sympathies are with their families and friends at this difficult time. We are in close contact with local authorities in Vietnam on their behalf."
Da Lat is the capital of Lam Dong province, in the country's central highlands.