Royal butler Paul Burrell wins damages from Max Clifford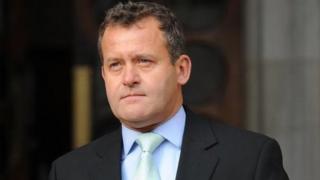 Ex-royal butler Paul Burrell has won £5,000 in damages from former PR guru Max Clifford at the High Court.
A judge ruled in Mr Burrell's favour in the privacy action, but awarded less than the £50,000 he had been seeking.
Princess Diana's ex-butler said he had hired Clifford in 2001 to limit bad press, but the PR man had given private material to the News of the World.
Clifford, who is serving an eight-year jail sentence for sex offences, said they had agreed to sell information.
He had called Mr Burrell's £50,000 action for breach of confidence and misuse of private information an "affront to common sense".
'Innermost secrets'
Mr Burrell told a hearing at the court in London last month that rather than stopping negative stories, Clifford "betrayed" him by passing on information in a fax to Rebekah Brooks, former editor of the now-closed News of the World newspaper.
The fax contained details about Mr Burrell's relationship with the Queen, the Duke of Edinburgh and the late Princess Diana.
Mr Burrell claimed any agreement between him and Clifford was terminated before the fax - which was sent in November 2002, the day after Mr Burrell was acquitted of stealing items belonging to the Princess of Wales.
The former butler said that when he met Clifford in 2002, the publicist had told him he needed to know more about him.
"He said I had to trust him with my innermost secrets because all his clients did that and he locked their secrets up in his safe.
"He said that as my agent he would need to know my secrets so that he could defend me."
Clifford claimed Mr Burrell was never a PR client but came to him for one reason - to sell a "sensational" story to a newspaper about his time in royal service.
The letter which was faxed contained a watered-down version of what Mr Burrell said he wanted to reveal and had been sent to Clifford on the basis he would use it as a "pitch" to broker a deal.
'Vindicated'
Clifford said that by sending the fax, he was following Mr Burrell's instructions, but the newspaper offered a lot less than the £400,000 or £500,000 Mr Burrell wanted, so he changed his mind.
"And it remained in confidence. Nothing he said to me appeared in the News of the World," he added.
Giving his decision, Deputy Judge Richard Spearman found that Mr Burrell "did not at any time engage or authorise Mr Clifford to market the contents of the letter, or send it to him to use for that purpose".
He said £5,000 was an "appropriate overall award".
In a statement after the ruling, Mr Burrell, who was not in court, said he was "delighted to have been vindicated".