Corbyn biggest threat to Falklands, claims Fallon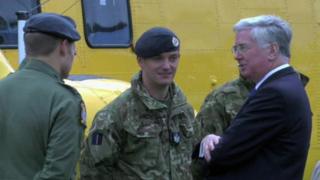 Defence Secretary Michael Fallon has claimed Jeremy Corbyn is a bigger threat to the Falklands than Argentina.
Mr Fallon, who is visiting the Islands, was referring to the Labour leader's recent suggestion the UK and Argentina should discuss their future.
Labour said his comments were "silly" and that Mr Corbyn was committed to "self-determination" for the islanders.
And Falklands Legislative Assembly chairman Michael Summers said he did not think Mr Corbyn was a threat.
In his visit, Mr Fallon also confirmed the Ministry of Defence would spend £180m on the islands' defences over the next decade, and laid a wreath at the memorial in Port Stanley to the 255 UK service personnel who died helping restore British control following the Argentine invasion in 1982.
It is the first visit by a UK defence secretary in more than a decade.
'Reasonable accommodation'
The BBC's defence correspondent Jonathan Beale said there were fears that the visit "could inflame tensions with Argentina" but Mr Fallon said he hoped relations would improve under President Mauricio Macri - Argentina's new leader.
But Mr Fallon insisted there would be no negotiation about the Falkland Islands' future.
And he targeted Mr Corbyn's suggestion last month that Britain should reach a "reasonable accommodation" with Argentina over the Falklands.
"The biggest threat at the moment isn't Argentina actually, it is Jeremy Corbyn and the Labour Party," Mr Fallon told the BBC.
When it was put to him that Mr Corbyn had not suggested the UK should give up the Falklands, he added: "No, but he's said that the rights of islanders can't... hold up that kind of dialogue."
'Not a threat'
Labour sources said the future of the Falkland Islands was not being actively considered by the party and Mr Corbyn had been responding to a question from the BBC's Andrew Marr.
In the January 17 interview with Andrew Marr, Mr Corbyn added: "It seems to me ridiculous that in the 21st century we'd be getting into some enormous conflict with Argentina about the islands just off it.
"Yes, of course the islanders have an enormous say in this, let's bring about some sensible dialogue. It happened before, I'm sure it can happen again."
Mr Summers said Argentina was "undoubtedly" the biggest threat to the Falklands.
He added: "Mr Corbyn has his views and we have invited him to listen to islanders so he properly understands modern developments in the Falklands and our way of life."
He added: "But I do not think he is a threat."
---
Falkland Islands dispute
The Falkland Islands are a remote and sparsely-populated British overseas territory in the south-west Atlantic Ocean
They remain the subject of a sovereignty dispute between Britain and Argentina, which waged a brief but bitter war over the territory in 1982
Argentine forces landed on the Falklands on 2 April 1982 to stake a territorial claim, but by 14 June they had been ejected by a British military task force
The fighting cost the lives of 655 Argentine and 255 British service personnel
The first record landing on the then uninhabited islands, which is 400 miles off the coast of what is now known as Argentina, was by a Royal Navy captain in 1690, who named them after his patron Lord Falkland
Argentina says it has a right to the islands, which it calls the Malvinas. It claims to have inherited them from the Spanish crown in the early 1800s
In 1833, Britain sent warships to expel an Argentinian garrison and reassert its sovereignty over the islands
Britain rests its case on its long-term administration of the Falklands and on the principle of self-determination for the islanders, who are almost all of British descent
---